FACIM offers new streaming classes in 2015
The Foundation for A Course In Miracles (FACIM) continues to offer their academy classes via streaming video; the next 3-day class is February 15-17, 2015. These new streaming classes greatly expand access to those who may not find it convenient to attend the sessions in person in Temecula, California. Kudos to FACIM for adding these additional online venue for their superb programs! I attended the first 1-day class recently via streaming and the content was excellent; Jeff and Loral and those in attendance had superb contributions.
Ken Wapnick's musical inspirations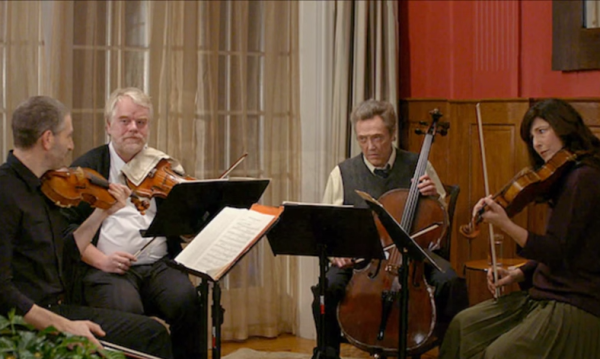 While in some sense, attention to specifics and form (in this case musical forms) can be, and often is, co-opted by ego to further the purpose of mindlessness and ego's twin shields of oblivion, we can also use–when guided by our Inner Kindness Teacher a.ka. Holy Spirit a.k.a. Jesus of ACIM–any specifics for a different purpose: to undo our identification with the finite selves we made up and seem to keep us ensnared in a miserable thought system with a needlessly despicable, partial and incomplete self-concept. With that caveat and gentle vigilance in mind, here's some of the music that Ken Wapnick refers to in Journey Through The Text of A Course In Miracles and other locations in his prodigious and brilliant works, with the intent that we might use inspirations such as these to return to the melos, the inclusive thought system that we all share, from which we appear to be taking an absurd and extended sabbatical from through our silly space-time dream dramas. 🙂
In numerous instances in Kenneth Wapnick's work, he refers to music that has inspirational qualities, particularly masterful works by Beethoven and Mozart. Here is one particular recording, Beethoven's String Quartet No. 14 in C-Sharp Minor, Op. 131: VII. Allegro – op. 131 – performed by the Brentano String Quartet. The video also references a related movie which uses Beethoven's Late Quartets as a backdrop to the story, named, appropriately enough, A Late Quartet. When I first listened to this YouTube recording, it seemed difficult (no doubt due to 'my' resistance) to access the 'melos' that Ken talks about, the thematic whole that is the inclusive song, not merely the notes. Now that I've listened to it several times, I'm beginning to fathom the depths that this music conveys. I suspect that this will deepen with repeated listening… How symbolic of the gradual ego-identity undoing process that requires our persistent practice, practice, practice to be alert, perceptive and open to letting go of our personal prejudices and preconceptions, and allowing what we all share universally to replace our limiting beliefs.
As Gary Renard's teachers, Arten and Pursah suggest, repetition (of practices that lead to undoing ego, such as mindfulness, forgiveness, shared interests and trusting our Inner Kindness Teacher) is not only a good idea, it's crucial to our returning to the Perfect Oneness … that we never left.
We're also in the season of Groundhog Day, and that movie has been a favorite reminder that consistent practice does indeed strengthen – we just need to choose WHICH thought system we want strengthened! 🙂
Here is another "Ken fave": Beethoven's String Quartet no. 13 in Bb, Op. 130, which contains this commentary: "The String Quartet No. 13 by Beethoven was completed in 1825, and though traditionally assigned the number 13, it was the 14th quartet in order of composition. Its original form consisted of six movements totalling approximately 50 minutes. After the work's first performance, mixed reactions and his publisher's suggestion convinced Beethoven to substitute a different final movement, one much shorter and lighter than the enormous Große Fuge. This new finale was written in 1826 and is thus the last substantial piece of composition Beethoven completed before his death, and he never witnessed it. The original finale was then published separately. Modern performances sometimes follow the composer's original intentions, leaving out the substitute finale and concluding with the fugue. The Cavatina (by the Budapest String Quartet) is the last piece on the Voyager Golden Record."
Ken also speaks highly of conductor Wilhelm Furtwängler; here are recordings of Beethoven's music conducted by Furtwängler of:
Yet another Wapnick favorite is Beethoven's Sonata #29 (HammerKlavier) which is part of the video below:
Richard Wagner's "Tristan Und Isolde" (performed here by Carlos Ludwig Kleiber) is evidently (from Ken's commentary in the Journey Through The Text of A Course In Miracles) another of his favorites.
Generalizing: Making all illusions – including years – the same

CA Brooks and Bruce Rawles talked (on January 9, 2015) on her weekly ACIM internet radio program on 12Radio about a fundamental ACIM concept: generalization. If we keep hanging on to expectations that the next year, job, relationship, health regimen, movie, meal, house, purchase, conquest or win is going to truly satisfy us – to 'make' us happy in any sustainable way, we're just asking for disappointment. However, we aren't asked to change our behavior; just watch ego mind – catch it in the act – during it's incessant shenanigans – and decide NOT to condemn ourselves for using such tactics as a means for projecting and avoiding the unconscious, unfounded guilt we all don't want to look at. Here's a link to more details and the audio recording of that conversation.
Susan Dugan workshops
For anyone in the Denver, Colorado or Portland, Oregon areas, ACIM teacher Susan Dugan is giving a workshop in 2015 entitled "The Parent-Child Relationship: Transcending Guilt, Blame, and Need " on Feb. 21 and March 28, respectively; here are details on her Classes/Events page. She also has an ongoing class on Tuesday evenings at Rocky Mountain Miracle Center (RMMC) in Denver; all highly recommended, as are her blog, and books, Forgiveness Offers Everything I Want, and Extraordinary Ordinary Forgiveness.
Upcoming Interviews / Webcasts / Videos / Meetings / Conferences / Presentations/ Classes / Resources
CA Brooks conversation about generalizing and making all illusions the same (see details above)
Podcast series (in development, underway; stay tuned!)
There is a backlog of projects and updates for the ACIMblog website forthcoming; this month was particularly busy, so please forgive the dearth of 'new' content until next month; meanwhile there is MORE than plenty to assist via resources such as the daily workbook lessons, FACIM FAQ, FACIM's website, and numerous other resources that may be helpful.
ACIM Resources, Events, Musings – your suggestions and contributions invited!
Please contact us to share what YOU would like to see here, any suggestions for improvements, etc. If you have anything ACIM-related that you'd like to share, please send (or send a link) for consideration. This site is (among other things) a venue for conversations, so I eagerly encourage and await more contributions from kindred students of our Shared Teacher of forgiveness and kindness. It's fun to share our universal interests online; visit ACIMblog pages on FaceBook FaceBook (my personal FB page, which is considerably ACIM-related), Twitter and YouTube. If you aren't already receiving this automatically in your email, you can subscribe here for free and get daily updates (of any posts made the prior day) via the "post updates by email" Subscribe button on every page. Eternal smilezenhugs to all! 🙂