Here is a list of useful resources for students of A Course In Miracles (ACIM):
Subscribe to our free monthly email bulletin about ACIM
A large assortment of ACIM and ACIM-related books, Kindle, videos, audios, and more
Foundation for Inner Peace (FIP) Home page. FIP also sends out a free ACIM Weekly Thought (with neat graphics to complement the beautiful thoughts) via email. (Quick aside: This example is from September 25, 2011, and features the 'seed of life' pattern which ties into another interest of mine, mystical or 'sacred' geometry.) If you'd like to sign up to have the ACIM Weekly Thoughts delivered each Sunday to your email in-box you can subscribe here. Here's an archive of past weekly thoughts.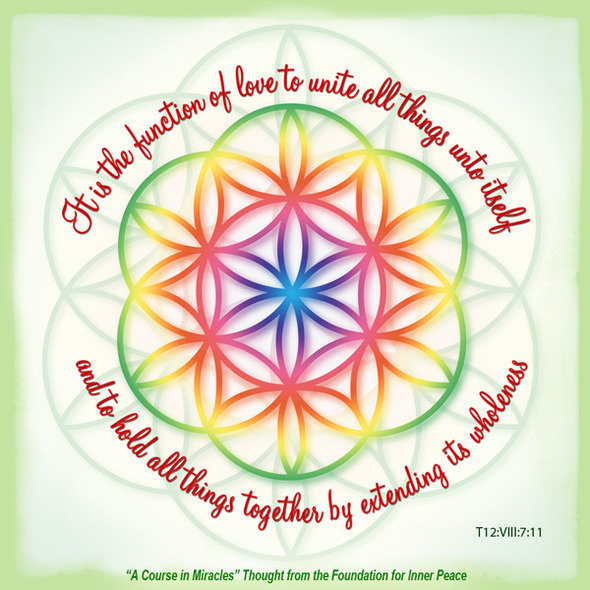 Foundation for A Course In Miracles (FACIM) – Kenneth Wapnick's website is probably the most helpful ACIM site of all. FACIM also has extensive (and excellent!) Online Learning Aids including a brief introduction to the theory of the Course, articles from The Lighthouse newsletter and excerpts from their books and tapes, as well as the equally helpful Glossary-Index for A Course in Miracles and an abbreviated glossary.
Their YouTube videos are outstanding as well. For more thorough study and/or specific questions covering a tremendous depth and breadth of subjects of interest, FACIM's Online Learning Aids include Outreach (Foundation for A Course In Miracles): Extensive Q&A (Questions and Answers); arranged by date or arranged by subject with a search function. The questions range from (Question #1) about the Christian language of the Course (a common mechanism for attempts to shift attention from content to form) … to Question #1386: Why are there different versions of A Course in Miracles, and does it matter which one we use? (another common diversion of the mind for resistance and avoidance using controversy) … and everything in between.
WikiSource complete reference (First Edition) of the ACIM Text, Workbook for Students, and Manual for Teachers
Gary Renard has – for numerous ACIM students worldwide – been a superb introduction (or re-introduction, including the editor of this website) to ACIM. Gary's books, video documentaries and audio programs (including the popular Gary Renard podcasts with Gene Bogart) are often referred to as 'can openers' because they provide clear and uncompromising, definitive statements about what ACIM is … and is not.
Gary's website includes his speaking/appearance schedule (which now includes music and meditations with Gary's wife, Cindy Lora-Renard) as well as many other helpful resources.
Cindy's sister, Jackie Lora Jones (also an avid and eloquent Course student/teacher like her sibling – they also teach ACIM classes together) has an excellent series of video interviews on her site, True Forgiveness Teachings: Awaken the Mind to Spirit. Jackie (with technical support from her husband, Mark) provide an excellent series of video interviews on their The 24th Hour: Positive News Magazine series, and more recently on her bi-weekly BlogTalkRadio program: True Forgiveness Teachings.
ACIM Archives – Exclusive historical material about A Course in Miracles from the original archives of the founding organizations – from FIP – FIP world map of ACIM study groups
David Hoffmeister, and Living Miracles Community – numerous ACIM-related websites devoted to the idea that peace is possible. Show SitesHide Sites


Course Talk – Yahoo Group (an outstanding ongoing, online conversation about ACIM principles and practice.


Disappearance of the Universe – Yahoo Group
(another outstanding ongoing, online conversation about ACIM principles and practice; I particularly enjoy Mike Lemieux's DU Quote of the Day; also greatly inspired by Gary Renard, Mike "Giddyup Mikey" Lemieux has a site about his book and related insights which is a collection some of Gary Renard's best quotes from DU and YIR, with some very enjoyable and amusing personal reflections about the impact of Gary's work on his journey.


Take Me To Truth – Yahoo Group (excellent in-depth online conversations about ACIM principles and practice)
Nouk Sanchez and Tomas Vieira's Take Me To Truth website


Click to join NTIStudyGroup Yahoo Group: The Holy Spirit's Interpretation of the New Testament: A Course in Understanding and Acceptance (NTI) – authored by Regina Dawn Akers Here's her blog.
ACIM Gather on Paltalk Express– To participate interactively, create a free account, then login, and search for ACIM Gather, and listen to (and chat via your keyboard with) ACIM-related hosts 24/7. The weekly schedule is here and you can also listen to the programming here.
Weekly show by Bruce Rawles on ACIM Gather – Every Saturday I share spontaneously from inspiration, and sometimes read from (and muse about) books like Kenneth Wapnick's brilliant Journey Through The Manual of ACIM and/or other ideas and media similarly inspiring: 6:30-7AM (Pacific Time) 7:30-8AM (Mountain Time) 8:30-9AM (Central Time) 9:30-10AM (Eastern Time) … other time zones here.
FaceBook pages:
A Course In Miracles – The Foundation for Inner Peace
A Course In Miracles – Foundation for Inner Peace
The Foundation for Inner Peace
Open Minds for ACIM and NTI
A Course In Miracles – Ireland
Miracle Network (UK)
MiracleShare is a Social Network for Students and Teachers of A Course In Miracles.
The Remembered Song (formerly ACIM Monk Monastery) has some great musings and resources.
Lots of useful info from Australian ACIM teacher, Michael Dawson ACIMessentials has video readings and transcription of daily workbook lessons.
The Voice For Love – David Paul and Candace Doyle – extensive and practical resources for finding, hearing and following your guidance; I attended their excellent workshop in 2010 and apply the effective techniques learned daily.
Laura Bedford (author of the article "Adventures in Forgiving the Dream") has a site with some inspiring musings (link updated needed.)
Kenneth Bok's ACIM Explained website features his engaging and open blog commentary and a superb YouTube channel with numerous interviews of ACIM teachers (such as Gary Renard, Nouk Sanchez and many more), its history and background material on a variety of related subjects. In 2012, Kenneth Bok explored using Google+ Hangouts (which permit up to 10 live video connections at a time). This inspired José Lorenzo Rodríguez, Michael Ordoña, other ACIM enthusiasts, and myself to employ this worldwide live (and archived) platform to expand interactive ACIM video presentations, interviews, and online study groups. Here is the ACIM Hangout page which has the schedule and links to prior ACIM hangouts. Enjoy, and – if you feel called to participate – join us online! 🙂 (A relatively fast internet connection and a USB microphone-headset are helpful to minimize echo and audio noise.) To learn more about participating, scroll down to Ken's video "How do I get Google hangout and get set up to participate?", then read this short best practices guide for using google hangouts.
Kathy Scott Perry's Miracle Promotions website features conferences, workshops, events and much more about ACIM teachers and enthusiasts.
Susan Dugan is the author of the "Forays In Forgiveness" website and also the book Extraordinary Ordinary Forgiveness; both highly recommended – excellent and engaging writing that uses personal experiences to bring the mind back to the 'why' of forgiveness.
Lyn Corona's blog Becoming Learners Together: A Guided Journey Through A Course In Miracles gets right to the heart of the non-dual metaphysics of ACIM with lots of truly helpful practical ideas.
Lyn Corona and Susan Dugan are both involved in the Ark of Peace: School of Reason: a school for students and aspiring ACIM teachers, highly inspired by the FACIM (Foundation for A Course In Miracles).
D. Patrick Miller, instrumental in getting Gary Renard's first book published with his Fearless Books imprint, also has an excellent page of ACIM resources.
All highly recommended! Enjoy! 🙂
Local ACIM Study Groups
To find local ACIM study groups worldwide, Miracle Distribution Center provides a helpful resource that shows maps of groups around the planet, as well as a search function. This directory is also linked from the ACIM.org website here.