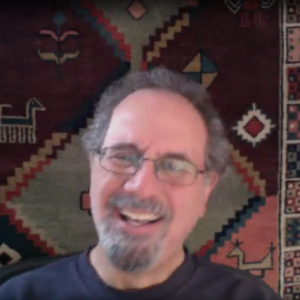 This video (part of an ongoing series of which this initial video was an introduction) is part 1 of a 2-part interview with "Dr. Bob" a.k.a. Dr. Robert Rosenthal and Bruce Rawles about Rosenthal's superb book, From Plagues to Miracles: The Transformational Journey of Exodus, From the Slavery of Ego to the Promise Land of Spirit, which I will abbreviate FPTM. Dr. Bob starts with a discussion of the symbolism of Hebrews as a nomadic tribe – we've all symbolically 'wandered' from our true home outside of the dream of space and time – and develops the story of Exodus as metaphor for our prodigal journey back to the real world that reconciles our dualistic dreams. We primarily emphasized the first half of the book – as far as I had read at the time of this recording. We explored ideas that FPTM provides excellent, very relatable examples of (drawn from Bob's many years as a practicing psychotherapist but with names changed for the subjects of his vignette stories, etc.) For example, in Chapter 2 of FPTM, there are both detailed descriptions as well as 'real world' case studies of 'mental slavery' such as:
bondage to possessions
bondage to money
bondage to time
bondage to the body
bondage to relationships
bondage to beliefs and values
bondage to roles
Dr. Bob refers to numerous references – over 1400! – in ACIM to freedom … and ego's opposite insane strategy (slavery) and then continues with explanations of the symbolism of water (flow), the 10 plagues that befall the Hebrews, and numerous other familiar metaphors that relate to the Exodus story, yet are easily generalized (particularly with understanding gleaned from study and application of ACIM's non-dual metaphysics). FPTM is an excellent companion to ACIM, reinforcing and complementing it's inspiring message that we really can escape from Pharaoh ego's mind imprisonment by consistent listening to our guidance that helps us lucidly realize that we can indeed become happy dreamers by realizing that this is our dream and our real Self has never been compromised.
Dr. Bob is the co-president of the Foundation for Inner Peace, as well as the author of From Plagues to Miracles (FPTM) which explores the metaphysical metaphors and symbolism of the story of Exodus, available in both paperback and Kindle editions. Listen to numerous interviews with Dr. Bob here as well on Charlotte Spicer's BlogTalkRadio channel series.