New ACIM studies book available June 5th!
The new book: The Geometry Code: Universal Symbolic Mirrors of Natural Laws Within Us; Friendly Reminders of Inclusion to Forgive the Dreamer of Separation by Bruce Rawles (with a Foreward by Gary Renard) becomes available Tuesday June 5th.
Don't let the word "Geometry" in the title scare you off! While there is a backdrop of geometric symbols in this book, they are used merely to provide outside pictorial reminders of the inward condition of choosing our shared Teacher of Kindness… or, as is often the case, gently nudge us to let go of our own hopeless yet silly dualistic notions, fantasies, special attachments and aversions. The book also draws on the ancient Hermetic Laws, which again, are used solely for the purpose of memory aids to bring to the Inclusive Spirit within to show us how our personal interpretations are never going to work, but those brought to the eternal Truth of the Being we all have in common will always restore our minds to wholeness and peace.
"Bruce has done a remarkable job of sharing how – by developing trust in the Inner Guide we all have in common – we can include the symbolic contents of our unconscious mind in very familiar forms, such as geometric ones. … This work is a fun and useful addition to the list of ACIM studies books. Enjoy, and awaken."
– Gary R. Renard, best-selling author of The Disappearance of the Universe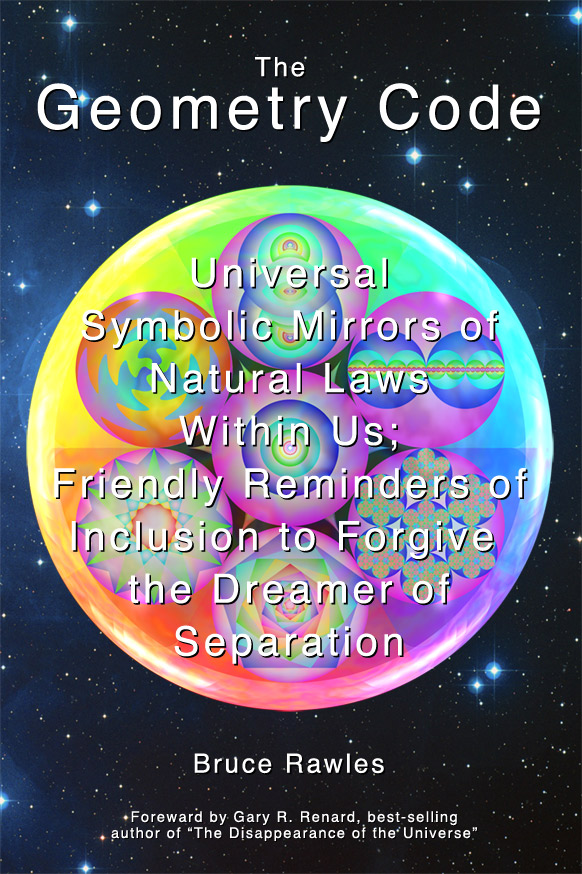 ACIM Gather program continues on Friday afternoons
My ACIM Gather program (formerly on Tuesday evenings) is now on Friday afternoons. After reading Kenneth Wapnick's brilliant Journey Through The Workbook of ACIM some months ago, I recently started reading his similarly outstanding Journey Through The Manual (JTTM) of ACIM. I have also recently started sharing some brief quotes (mostly from my daily reading of this book) on my frequent FaceBook status updates and recent tweets on Twitter. You can see a few of the most recent tweets in the right-hand sidebar on each page of this site. I've shared online on ACIM Gather for several weeks now (with super support from Dov Fishman)… It's lots of fun. Please join in the conversation when you can on Fridays from 1:30-2 PM Mountain Time. To listen to ACIM Gather on Paltalk Express (and optionally participate interactively), create a free Paltalk Express account, then login, search for ACIM Gather, and listen to (and chat via your keyboard with if you're interested) ACIM-related hosts 24/7. Here is the weekly ACIM Gather schedule. You can also listen to the ACIM Gather programming (LOTS of great ACIM programming 24/7!) here.
ACIM Explained YouTube series with Kenneth Bok
Check out Kenneth Bok's engaging online show (ACIM Explained) where he interviews ACIM luminaries, authors and does a wonderful job of sharing both the content and supporting info… There are even more interviews to enjoy since I mentioned his series about ACIM last month. 🙂
Jennifer Hadley ACIM interviews for 2012
… speaking of online interviews, you might also enjoy Jennifer Hadley's new 8 week series of interviews (following a great lineup last year as well). Here's a link to her replays (available for 48 hours after each session.) The most recent (31 May) was an interview with Gary Renard.
ACIM Resources, Events, Musings from you!
Please let me know what YOU would like to see here, any suggestions for improvements, etc. If you have anything ACIM-related that you'd like to share, please send (or send a link) for consideration. This site (among other things) is a venue for conversations, so I eagerly encourage and await more contributions from kindred students of the One Teacher of forgiveness and kindness.
It's fun to share our universal interests online; visit ACIMblog pages on
FaceBook,
Twitter and
YouTube.
Eternal smilezenhugs to all! 🙂