ACIMblog bulletin for February 2013:
Dan Rosey interviews via Google+ Hangout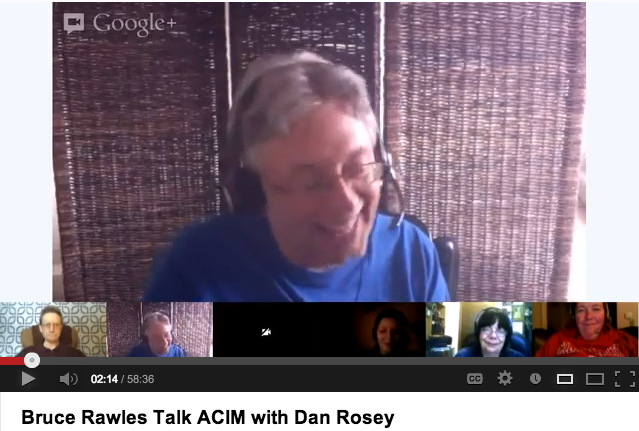 Recently Dan Rosey hosted an interview with yours truly (Bruce Rawles) and several others via Google+ Hangout; we had a lot of fun (as always). Here are some other video interviews in this series by Dan Rosey with Mike Ordoña, Maureen Muldoon, Karstein Bjastad, and José Rodríguez. Here's Dan's YouTube channel.
New websites 'in the works' for students of ACIM
There are new online resources (which I'll share as soon as they are far enough along to share) that I'm working on with several others and groups of others … recalling, of course, that 'others' is a rather silly concept, but you know what I mean. 🙂
Meanwhile, check out 3 recently updated websites by enthusiastic and sagely students/teachers of ACIM, Susan Dugan and Lyn Corona. Susan's Forays In Forgiveness blog is a treasure-trove of interviews (with Kenneth Wapnick and Gary Renard), audio and excellent weekly posts, each promptly moving from her highly relatable personal forgiveness classroom to the generalized insights from the Inner Teacher of Kindness we all share. Lyn Corona, also deeply inspired by Kenneth Wapnick's insight's about ACIM, established the School of Reason, and also shares eloquent insights on her personal blog, Becoming Learners Together. All highly recommended – and it was great fun renovating these websites with such excellent content!
(If you would like an assistance with an ACIM (or related) website, please contact me, since I very much enjoy making, updating and maintaining sites like these. 🙂
New daily post updates option
I recently added a way to quickly and easily subscribe to automated post updates to the ACIMblog.com website. Just enter your email below where it says the "ACIMblog.com post updates by email" on the upper right hand corner of any page, and click the "Subscribe" button. You'll automatically get an email containing any new posts to ACIMblog.com made the previous day. Of course, if you prefer just getting one email a month, the bulletin you're reading now (if you're reading this in your email program) will still continue to provide that service.
Upcoming Interviews / Webcasts / Videos / Meetings / Conferences / Presentations/ Classes
Next month: a Conversation with Doug Sparks, Lyn Corona and Susan Dugan about our shared interest in and application of the teachings of Ken Wapnick
To familiarize yourself with the work of the participants in an upcoming video (which I'll post here next month, check out Susan Dugan's blog: Forays In Forgiveness. Lyn Corona is the author of the School of Reason and Becoming Learners Together websites. Doug Sparks has been a student of Ken Wapnick since the early days of ACIM; here's an audio of a presentation entitled "A Garden Ephipany" he gave last year at Rocky Mountain Miracle Center (RMMC).
Online ACIM study groups and presentations
"Spiritual Bypassing" was the topic of a hangout session recently recorded in a live (google+) ACIM hangout; 7 of us had a lively conversation about the linked article and how we can use everything that arises (including catching our resistance to shift our identity from special interests to shared interests, thus bypassing the (ego's) bypass; here's the video of that session. Kenneth Bok, José Lorenzo Rodríguez, Michael Ordoña, Maureen Muldoon, several others (including a new group forming in Germany) and myself have been collaborating and expanding online (Google+) ACIM Hangout study groups and meetings; here's a link to the ACIMExplained YouTube Channel (which has LOTS of wonderful videos) including weekly Saturday presentations/meetings. Enjoy, and join in if you feel inspired to share in the fun. Check back regularly on the calendar of upcoming online ACIM Hangouts for new events to participate 'live' in, and/or watch later.
Recent additions to the "Gary and Cindy" (Gary Renard and Cindy Lora-Renard) section of ACIMblog Favorites
The ACIMblog Favorites (Amazon "aStore") now has new additions, resulting in a more complete selection of books, Kindle versions of Gary's books (and related ones), audios by Gary, plus solo music by Cindy and audio programs by Cindy and Gary together and video titles by, or including Gary.
While we're on the subject of ACIM-related books, videos, audios, Kindle and other media, I've recently added lots of new ACIM titles on the Amazon ACIMblog Favorites page and will keep adding more.
If there are books, videos, audios or Kindle selections you recommend, but don't see here, please let me know what you find truly helpful so I can add them to the lists.
Recent reviews of The Geometry Code

Thanks to Susan Dugan, Mike Lemieux, and Marianne O'Sheeran for their new, kind reviews of The Geometry Code: Universal Symbolic Mirrors of Natural Laws Within Us; Friendly Reminders of Inclusion to Forgive the Dreamer of Separation. Yet another fellow author, Jonathan Joshua, wrote the first review – Thanks, Jonathan! – last year. Huge thanks also to Gary Renard, Cindy-Lora Renard and Roberta Grace for adding The Geometry Code book (with a Foreward by Gary) to the "Gary recommends" book list on Gary's website.
The Kindle version of the book became available last September. Many thanks to all who have encouraged me to complete it, and all your support … so very appreciated! 🙂 BTW, if you prefer a 'treeware' (paperback) version, you can order it here. Here are abundant details about the book – which really IS an ACIM-studies book, despite the prominent appearance of the word 'geometry' in the title.
BTW, even if you don't have a Kindle, there are lots of other platforms you can read the Kindle version (or any Kindle book) on, including smartphones such as iPhone and iTouch, Android, Windows Phone 7, Blackberry, Windows and Macintosh computers, and tablets like iPad and Android tablet. Enjoy! 🙂
Recent Radio/Webcast Interviews/Podcasts/Videos
The GeometryCode Events page has upcoming, ongoing, and past radio and internet interviews, presentations, and more. (The majority of the content I share in these events is about non-dual metaphysics, and becoming ever more so.)
Among the recent past interviews I've participated in (with free audio archives online that you can listen to) are:
… and many more on the Events page.
I always enjoy talking about the non-dual Metaphysics, Psychology, Symbolism, Philosophy and more contained within the book "The Geometry Code: Universal Symbolic Mirrors of Natural Laws Within Us; Friendly Reminders of Inclusion to Forgive the Dreamer of Separation" which is available here.
ACIM Resources, Events, Musings – your suggestions and contributions invited!
Please contact me to share what YOU would like to see here, any suggestions for improvements, etc. If you have anything ACIM-related that you'd like to share, please send (or send a link) for consideration. This site is (among other things) a venue for conversations, so I eagerly encourage and await more contributions from kindred students of our Shared Teacher of forgiveness and kindness.
It's fun to share our universal interests online; visit ACIMblog pages on
FaceBook
FaceBook (my personal FB page, which is mostly ACIM-related),
Twitter and
YouTube.
If you aren't already receiving this automatically in your email, you can subscribe here for free and get daily updates (of any posts made the prior day) via the "post updates by email" Subscribe button on every page.
Eternal smilezenhugs to all! 🙂