One last day! FACIM 50% Off Book Sale Extended through September
I strongly encourage supporting the Foundation for A Course In Miracles (FACIM); they have supported us all in countless ways for many years, directly and indirectly – just think of how many students and teachers of ACIM you know that have been inspired … and continue to be inspired … by Dr. Kenneth Wapnick and his prodigious, seminal and revelatory work – who have inspired you … and others you've never 'met' – even if you never met Ken 'in person' (which I never had the opportunity to do, alas) or even if you've never been to the center in Temecula, California (which I finally had the pleasure of doing earlier this year and also recommend highly.) I just started reading (in their entirety) the nearly 1400 brilliant Q&A postings that are part of the Online Learning Aids that FACIM provides everyone for free – yet another example of FACIM's generous service to the ACIM community world-wide. Buying books by Ken Wapnick directly from FACIM's website is a win-win way to extend your collection of books by Ken Wapnick and/or give as gifts. FACIM just announced that – by popular demand – they are extending their generous 50% off discount on the print version of Ken's books through the month of September 2014. Here is a direct link to the FACIM online bookstore. I just stocked up on 6 titles I didn't have from my favorite author to extend my "Ken" collection. Enjoy!
Doug Sparks workshop in Castle Rock, Colorado – October 4, 2014
Due to a few cancellations, there are a few (4) spaces left for the Doug Sparks workshop here (at our home in Castle Rock, CO) on Saturday, October 4, 2014. His topic will be "Befriending the Unbefriended" and will be similar to the format of his other (superb!) workshops in the Boulder area from 10AM-4PM with a break for lunch, and a cost of $30. For those interested, we'll have an optional potluck afterwards; let me know if you want to attend either or both. Please contact us ASAP to reserve a place, as this workshop is almost filled up and our living room (unlike our right mind) appears to have limited capacity. 🙂
Meanwhile, here are some prior examples of some of Doug's superb presentations and workshops, at his home in Boulder, Colorado, at Rocky Mountain Miracle Center (RMMC) in Denver and elsewhere – reflecting his decades of studying ACIM from the early days of Ken Wapnick's teachings. More are forthcoming after I complete a bit of editing on the audio I've recorded.
Please RSVP if you plan to attend (even if it's a 'maybe'), and I'll keep a running list of who has reserved a spot. Also, please send a link to this page to anyone you think might be interested in attending in your ACIM contacts, including those who might know someone in the Denver area, or might be visiting here during early October, particularly those who are fans of Ken Wapnick's teachings. THANKS!
Doug Sparks was an early student of Ken Wapnick, shortly after Ken began teaching. Doug has been sharing similarly for many years from the Boulder area. When you listen to Doug share his insights about the course, it becomes obvious that the decades of immersion in Ken's understanding of ACIM have been extended through Doug's crystal clarity and kind-heartedness. You won't regret attending… your ego might have some major issues, but that's the idea … gentle undoing of the resistance to truth! 🙂
Virtual ACIM conference Oct. 17-19, 2014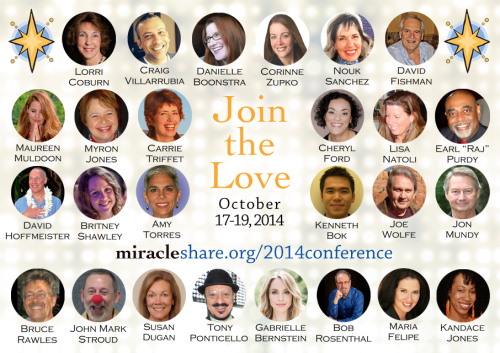 Please join me and Amy Torres, Dr. Bob Rosenthal, Britney Shawley, Carrie Triffet, Cheryl Ford, Corrine Zupko, Craig Villarrubia, Danielle Boonstra, David Fishman, David Hoffmeister, Earl "Raj" Purdy, Gabrielle Bernstein, Joe Wolfe, John Mark Stroud, Jon Mundy, Kandace Jones, Kenneth Bok, Lisa Natoli, Lorri Coburn, Maria Felipe, Maureen Muldoon, Myron Jones, Nouk Sanchez, Susan Dugan, and Tony Ponticello for the first MiracleShare.org 2014 Virtual Conference on October 17-19, 2014. Here is a list of speakers, details about the virtual conference, and a link to register for the event. The theme of this first virtual conference is "Healing the Mind through ACIM." My presentation will be: "Lowering our shields of oblivion: Following our Inner Kindness Teacher beyond the imagined need for defenses back to the Peace of Perfect Oneness we never left." Note that you do NOT have to attend any of these sessions live and can watch/listen to them later if you already have plans for any or all of those 3 days. Here are some quotes from the speakers, in a slide show format. I hope you can join us! This promises to be a wonderful opportunity for the global ACIM community to share insights, support and humor. 🙂
Video conversation with Susan Dugan about ego backlash
Here's another recent video conversation in our Kenneth Wapnick enthusiasts series: Susan Dugan and Bruce Rawles talk about ego backlash and not taking ourselves too seriously. Synchronistically, I've been enjoying the FACIM Q&A series with 'random' discoveries over the past few years, but just started going through all 1000+ of them in order, and discovered that Question #35 fits our conversation quite well; helpful when you find that it SEEMS to be getting more difficult to undo the ego, when, in fact, it has been a steady resistance to truth ever since the 'tiny mad idea' … never happened! 🙂
More 12Radio conversations with CA Brooks
Last month I reported on the conversation that CA Brooks and I had about a favorite and helpful ACIM subject, the double shield of oblivion. Since then, we recorded another session, this time about metaphysical movie metaphors, particularly The Wizard of Oz; we plan to do more, since this genre is so loaded with symbolism amenable to listening to Holy Spirit's version that leads us off the screen and back into the audience… or perhaps the projection booth. 🙂 Next Friday, we'll have another conversation (which I'll upload to ACIMblog soon) that will touch on another favorite helpful subject: Level Confusion. Here's an article by Ken Wapnick on the subject of Level Confusion I'm sure to draw inspiration from.
New Gary Renard article on ElevateExistence.com
Gary Renard wrote an excellent, concise introductory article about ACIM here; check it out!
Kindle edition of The Geometry Code turned 2 yesterday
Amazing that it's already been a couple of years since I released the Kindle edition of the book: The Geometry Code:
Universal Symbolic Mirrors of Natural Laws Within Us; Friendly Reminders of Inclusion to Forgive the Dreamer of Separation … You can read more about this metaphysical romp here, and download the first chapter for free here. The 'tree-ware' version has been around even longer for those that enjoy a 'real book' to curl up with. 🙂
Upcoming Interviews / Webcasts / Videos / Meetings / Conferences / Presentations/ Classes / Resources
Doug Sparks workshop – Castle Rock, CO; 4Oct2014 (see details above)
CA Brooks interview about Level Confusion (see details above)
ACIM Resources, Events, Musings – your suggestions and contributions invited!
Please contact us to share what YOU would like to see here, any suggestions for improvements, etc. If you have anything ACIM-related that you'd like to share, please send (or send a link) for consideration. This site is (among other things) a venue for conversations, so I eagerly encourage and await more contributions from kindred students of our Shared Teacher of forgiveness and kindness. It's fun to share our universal interests online; visit ACIMblog pages on FaceBook FaceBook (my personal FB page, which is mostly ACIM-related), Twitter and YouTube. If you aren't already receiving this automatically in your email, you can subscribe here for free and get daily updates (of any posts made the prior day) via the "post updates by email" Subscribe button on every page. Eternal smilezenhugs to all! 🙂