ACIMblog bulletin for November 2012:
Class: Universal Symbolic Mirrors of Natural Laws: Denver, CO Nov 5, 2012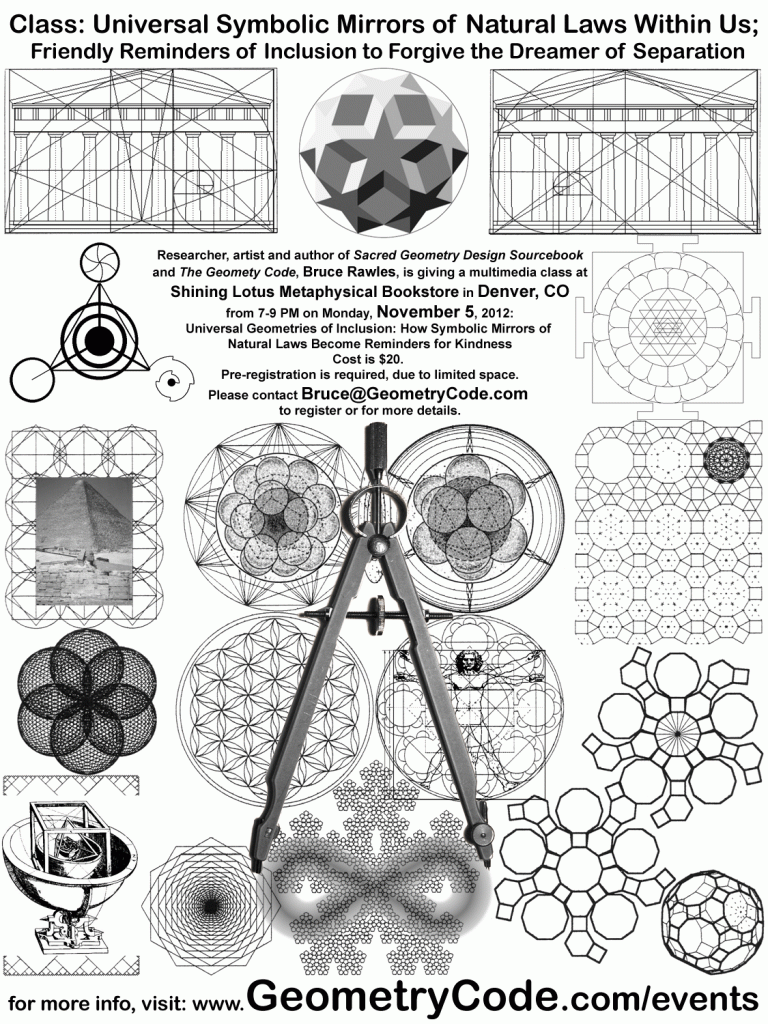 On Monday, Nov. 5, 2012, from 7-9PM (Mountain Standard Time) I'll be giving an evening multimedia class/presentation: "Universal Symbolic Mirrors of Natural Laws Within Us; Friendly Reminders of Inclusion to Forgive the Dreamer of Separation" at Shining Lotus Metaphysical Bookstore, 2178 S. Colorado Blvd., Denver, CO 80222 I will share LOTS of visual multimedia imagery, animation and more, along with plenty of theory on the mystical underpinnings of sacred geometry, the seven ancient Hermetic laws of truth, take-home lessons from modern physics, and how the non-dual metaphysics of inclusion, kindness and forgiving our self-judgments is key to sustainable happiness (a.k.a. non-dual metaphysics)! 🙂 There will be a book-signing after the class; both of my books, Sacred Geometry Design Sourcebook and The Geometry Code, are available from Shining Lotus Metaphysical Bookstore. Space is limited to 20 participants, so please contact me ASAP if you're interested and want to pre-register.
7 New Articles by Brent Haskell

Brent Haskell is the author of Journey Beyond Words and The Other Voice: A Companion to the Text of The Course Chapters 1-15 (Miracles Studies Book). During October, 2012, I had the pleasure of meeting Brent at the Miracles In The Mountains conference in Cañon City, Colorado and hearing him give a presentation there, during which offered to send several articles:
Jeshua: The Script Is Written
Yeshua: On Creation
Yeshua: On Fear
Yeshua: On Faith
Jeshua: On Why The World
Jeshua: On Marriage
Jeshua: On Death and Dying
Kindle edition of The Geometry Code now available!


The long-awaited (at least by me 🙂 Kindle version of the book The Geometry Code: Universal Symbolic Mirrors of Natural Laws Within Us; Friendly Reminders of Inclusion to Forgive the Dreamer of Separation is now available. Many thanks to all who have encouraged me to complete it, and all your support … so very appreciated! 🙂 BTW, if you prefer a 'treeware' (paperback) version, you can order it here. Here are abundant details about the book – which really IS an ACIM-studies book, despite the prominent appearance of the word 'geometry' in the title.
Just an FYI, even if you don't have a Kindle, there are lots of other platforms you can read the Kindle version (or any Kindle book) on, including smartphones such as iPhone and iTouch, Android, Windows Phone 7, Blackberry, Windows and Macintosh computers, and tablets like iPad and Android tablet. Enjoy! 🙂
Upcoming Interviews / Webcasts / Videos / Meetings / Conferences / Presentations
More online study groups via Google+ Hangouts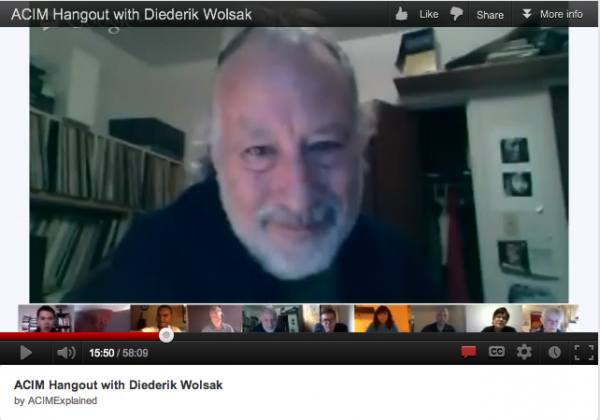 Kenneth Bok, José Lorenzo Rodríguez, Michael Ordoña, Maureen Muldoon, several others (including a new group forming in Germany) and myself have been collaborating and expanding online (Google+) ACIM Hangout study groups and meetings; here's a link to the ACIMExplained's YouTube Channel (which has LOTS of wonderful videos) and the most recent weekly Saturday morning meeting (a 'full house' with 10 participants) including ACIM – Diederik Wolsak. Enjoy, and join in if you feel inspired to share in the fun. Here's a calendar of upcoming online ACIM Hangouts.
Miracles In The Mountains Conference: Cañon City, CO Oct 12-14, 2012
A few weekends ago, I attended – and very much enjoyed! – the Miracles In The Mountains (MITM) Conference; where I had the pleasure of meeting many new fellow ACIM students (many of whom I only had 'met' on FaceBook), scribes, and teachers – we're all teaching one thought system or the other 24/7/365 aren't we! – such as Brent Haskell (see the 7 new articles above!), Scott Kalechstein Grace and Larry Seyer, (and re-connecting in 'person' with a handful of long-time ones, like Gary Renard, Cindy Lora Renard and Regina Dawn Akers); I posted a few photos on the MITM and my personal FaceBook pages. Giddyup Mikey & I even got to have lunch with Dave Van Dyke before the conference, which was attended by close to 200 enthusiastic students of ACIM.
Recent Radio/Webcast Interviews/Podcasts/Videos
I've been updating the GeometryCode Events page with upcoming, ongoing, and past radio and internet interviews, presentations, and more. (The majority of the content I share in these events is about non-dual metaphysics, and becoming ever more so.)
Among the recent past interviews I've participated in (with free audio archives online that you can listen to) are:
… and many more on the Events page.
I always enjoy talking about the non-dual Metaphysics, Psychology, Symbolism, Philosophy and more contained within the book "The Geometry Code: Universal Symbolic Mirrors of Natural Laws Within Us; Friendly Reminders of Inclusion to Forgive the Dreamer of Separation" which is available here.
ACIM Resources, Events, Musings from you!
Please let me know what YOU would like to see here, any suggestions for improvements, etc. If you have anything ACIM-related that you'd like to share, please send (or send a link) for consideration. This site (among other things) is a venue for conversations, so I eagerly encourage and await more contributions from kindred students of the One Teacher of forgiveness and kindness.
It's fun to share our universal interests online; visit ACIMblog pages on
FaceBook
FaceBook (my personal FB page, which is mostly ACIM-related),
Twitter and
YouTube.
If you aren't already receiving this automatically in your email, you can subscribe here for free.
Eternal smilezenhugs to all! 🙂