UPDATE (29Aug2012): Here's a new review of the movie Inception in response to an excellent article by Michael Murray and Kenneth Bok.
This past week, the illusion of the dream figure I call Bruce trekked across the street twice to watch the movie Inception. Like the Matrix series, I can skip the gratuitous violence, but enjoyed the IDEAS in the film immensely.
A quick update; I just saw this very cool clip which is almost like a 'Cliff Notes' vignette of the Inception movie in musical and special effects form; a fun rendition of " Across the Universe (with the 'Nothing's Gonna Change My World' lyric; a fave Beatles tune) by Fiona Apple; talk about calm in the center of the dream cyclone! 🙂
Update 9Feb2014: Dave Van Dyke reminded me that the lyrics to Enya's song "How Can I Keep From Singing?" fit nicely with the Fiona Apple video.
Here's a comment I just posted on my Facebook page about a review that hit many of the key ideas: waking up from dreams, projections, and yes, even forgiveness and unconscious guilt were mentioned (albeit briefly) in the film:
Just read a great review of the movie Inception; here's my reply:
Great review: Making the leap of faith in a dream: Philosophical reflections on Christopher Nolan's "Inception" (2010), thanks! There are numerous hints in the film about the importance of forgiving our projections (the people and situations the egoic mind uses to keep us in the dream of separation and duality); our kindnesses and shared interests are the totems that awaken us with a gentle "kick" out of the addiction to unconscious guilt as you mention in this paragraph:
"Thus, resolution has something to do with the retrieval and acknowledgement of a hidden or repressed truth, followed by the work of letting go. Unless this is done, the burden of unconscious negative emotions (e.g. fear, guilt, anger, etc.) will continue to suck your psychic energy, preventing you from functioning and thriving."
I highly recommend the work of Ken Wapnick, Gary Renard, & Nouk Sanchez/Tomas Vieira as complements or intros to A Course In Miracles to explore the dream metaphor more deeply and how we can use true forgiveness as the universal totem for gently awakening from a nightmare we forgot we made up. When I walked into the theater to watch Inception, I laughed silently, realizing I was already at least a couple of dream/theater levels deep! 🙂
Another favorite 'virtual reality' genre film: Waking Life. In this animated film, the protagonist is given the suggestion that you can tell if you're dreaming by flicking a light switch, and if the light goes on or off, then you're not dreaming. Interestingly, I had a dream (of the nocturnal variety! 🙂 shortly after watching this movie, and in that dream, the light DID go on and off when I was toggling the switch in my dream within a dream world on a stairway landing! 🙂 Perhaps the only 'real' totems are those that help us gently laugh and kindly forgive ourselves for making the world up in the first place (undoing the dream of duality and separation.)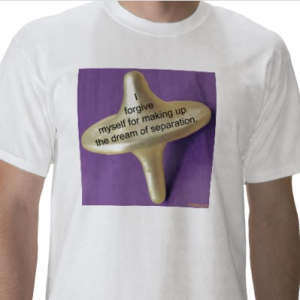 …
Addendum (added 27Nov2011):
When Ariadne finds Mal in the basement of Cobb's memories, she starts to tell Mal her name but Mal cuts her off: "I know who you are." How does Mal know who Ariadne is?
Since Mal is Cobb's projection, if he knows her, then Mal should know her as well. If you're looking at the film metaphysically, Mal ('Bad' or 'Evil' in Latin, French, Spanish and Portuguese) is the dream figure in Cobbs mind who symbolises his guilt. Guilt is undone by forgiveness. Ariadne symbolises innocence and forgiveness and shares this key with Cobb, telling him the only way to undo his guilt and free himself from  his dream-hell is to forgive both Mal and himself. She is thus recognised by Mal as her enemy, as her message of forgiveness will free Cobb from Mal's control.
http://www.imdb.com/title/tt1375666/faq#.2.1.51
The "Penrose stairs" (with a woman perpetually picking up papers) that Arthur shows Ariadne is a reference to a lithograph print by the Dutch graphic artist M.C. Escher. The print is usually called "Ascending and Descending" or "The Infinite Staircase", and was first printed in March 1960; Escher is well-known for his drawings exploring optical illusions and real architectural, mathematical, and philosophical principles rendered in fantastical ways.
Ariadne, in Greek mythology, was the daughter of King Minos of Crete and his queen, Pasiphaë. She aided Theseus in overcoming the Minotaur by giving him a ball of red fleece thread that she was spinning, so that he could find his way out of the Minotaur's labyrinth. The name is also a reference to Hugo von Hofmannsthal's setting of the myth for Richard Strauss's opera Ariadne auf Naxos. The opera is a play within a play, just as the movie is a dream within a dream.
Marion Cotillard's character is called 'Mal', short for name 'Malorie', a name derived from French word 'malheur', meaning misfortune or unhappiness. The shorter version 'mal' means wrong/bad or evil (when a noun) in French, as well as some other Latin-based languages.
Mal's totem, a spinning top, is (probably) a reference to the Clifford D. Simak's story 'Ring Around the Sun' where the spinning top is used as a way to skip from one parallel Earth to another (by way of helping characters to concentrate).
The first letter of each of the main character's first names – Dom, Robert, Eames, Arthur/Ariadne, Mal, Sato – spell the word DREAMS.
http://www.imdb.com/title/tt1375666/trivia
Here's where to get a DVD of the movie Inception.