ACIMblog bulletin for October 2012:
Kindle edition of The Geometry Code now available!

The long-awaited (at least by me 🙂 Kindle version of the book The Geometry Code: Universal Symbolic Mirrors of Natural Laws Within Us; Friendly Reminders of Inclusion to Forgive the Dreamer of Separation is now available. Many thanks to all who have encouraged me to complete it, and all your support … so very appreciated! 🙂 BTW, if you prefer a 'treeware' (paperback) version, you can order it here. Here are abundant details about the book – which really IS an ACIM-studies book, despite the prominent appearance of the word 'geometry' in the title.
Just an FYI, even if you don't have a Kindle, there are lots of other platforms you can read the Kindle version (or any Kindle book) on, including smartphones such as iPhone and iTouch, Android, Windows Phone 7, Blackberry, Windows and Macintosh computers, and tablets like iPad and Android tablet. Enjoy! 🙂
Upcoming Interviews / Webcasts / Videos / Meetings / Conferences / Presentations
Miracles In The Mountains Conference: Cañon City, CO Oct 12-14, 2012
Next weekend (October 12-14), I'll be attending – and very much looking forward it! – the Miracles In The Mountains (MITM) Conference; I hope to see you there! Here's a bit of fun I had 'PhotoShopping' a few 'bobbleheads' of some of the featured contributors … on the 'road to the abbey' 🙂


Dear friend and fellow ACIM enthusiast (and scholar of Gary Renard's work), 'Giddyup Mikey' Mike Lemieux – author of "Dude, Where's My Jesus Fish?: A Compilation Highlighting the Blunt and Uncompromising Teachings of Arten and Pursah on A Course in Miracles", will be carpooling with me to the event, so that will add an extra dimension of fun.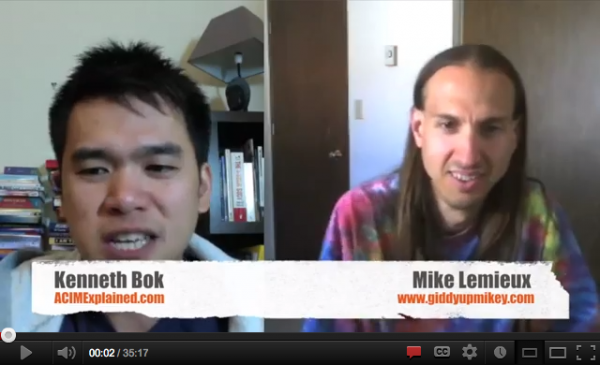 Here's a 'hot off the virtual press' 'interview with Mike Lemieux by Kenneth Bok on his excellent ACIMexplained.com interview series.
Class: Universal Symbolic Mirrors of Natural Laws: Denver, CO Nov 5, 2012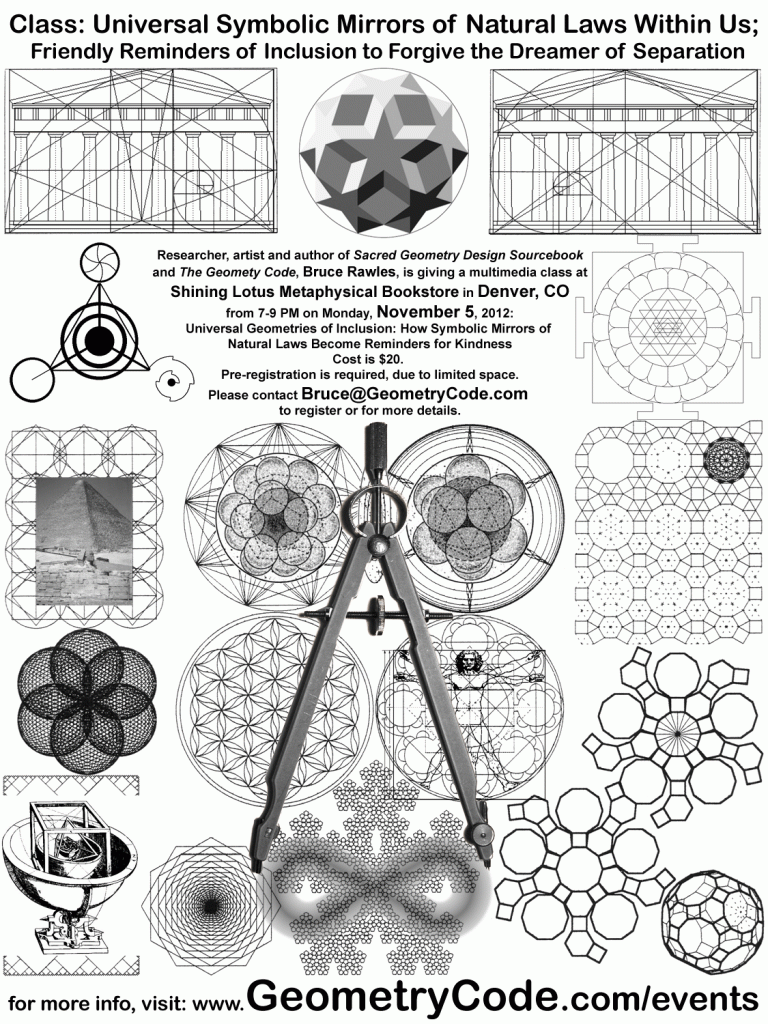 On Monday, Nov. 5, 2012, from 7-9PM (Mountain Time) I'll be giving an evening multimedia class/presentation: "Universal Symbolic Mirrors of Natural Laws Within Us; Friendly Reminders of Inclusion to Forgive the Dreamer of Separation" at Shining Lotus Metaphysical Bookstore, 2178 S. Colorado Blvd., Denver, CO 80222 I will share LOTS of visual multimedia imagery, animation and more, along with plenty of theory on the mystical underpinnings of sacred geometry, the seven ancient Hermetic laws of truth, take-home lessons from modern physics, and how the non-dual metaphysics of inclusion, kindness and forgiving our self-judgments is key to sustainable happiness (a.k.a. non-dual metaphysics)! 🙂 There will be a book-signing after the class; both of my books, Sacred Geometry Design Sourcebook and The Geometry Code, are available from Shining Lotus Metaphysical Bookstore. Space is limited to 20 participants, so please contact me ASAP if you're interested and want to pre-register.
Doug Sparks classes in Boulder, CO, and recent audio online
Doug Sparks is a long time student of Kenneth Wapnick and an excellent, kind-hearted teacher. There's still room in his Tuesday morning classes in Boulder, Colorado which started last week. Here is a syllabus of new classes by Doug Sparks in Boulder, Colorado on Tuesday mornings with a link to the audio from "A Garden Ephipany".
Wed. ACIM/DU online study group now a Google+ Hangout
For almost a year, I've been 'skype-ing in' to the Wed. evening ACIM/DU study group I started in southern Oregon (thanks to Dan & Terry Miller!) and now we have regular attendees from 3 states. It's a joy to be able to continue the friendship and deepening of understanding and sharing about our revelations about our practice of forgiveness, kindness and non-dual amusement/amazement. 🙂 So, I'm further enthused about the prospects of extending that capability among different groups around the planet. We get to play 'pioneers' in rediscovering how to reflect the connection, wholeness and sameness we never left. 🙂 Since we also just switched to the google+ hangout format, let us know if you'd like to join in these always-fun conversations. These video connections are a great complement to the audio-only programs such as ACIM Gather, which Dov Fishman does a great job hosting. Details about my weekly Friday program (amid the enjoyable 24/7 line up) are below.
More online study groups via Google+ Hangouts
Kenneth Bok, José Lorenzo Rodríguez, Michael Ordoña, several others and myself have been collaborating around more online study groups; here's an announcement by José about his new group (every Thursday, 8pm Danish time, since he's currently in Copenhagen.)
Excellent ACIM documentary
If you haven't already seen it (or even if you have and want to enjoy it again, here's a superb ACIM documentary by Leap Ventures and Ike Allen. If you want a DVD, it's available on Amazon.
A vintage video: Krishnamurti – Is Belief Necessary? (1970)
Thanks to our wonderful FaceBook community for alerting me to a a superb vintage video: Krishnamurti – Is Belief Necessary? (1970). I recall reading a book by Krishnamurti while backpacking in California's Sierra Nevada mountains in the early 1970's, being wowed by the profound depths of the insights… and now they seem deeper than ever. 🙂
Mental Telepathy – article by Dan Rosey
Here's another new article titled Mental Telepathy by Dan Rosey on his ACIM+NLP+Chakras website. Here's how the article starts: "The ability to communicate, without physical means, demonstrates the unseverable inter-connectedness between us all. This wholeness is a major theme in ACIM." Dan usually joins us on Wed. evenings via skype (now google+ hangout) on our weekly multi-state study group from 7-9PM Pacific Time.
Recent Radio/Webcast Interviews/Podcasts/Videos
I've been updating the GeometryCode Events page with upcoming, ongoing, and past radio and internet interviews, presentations, and more. (The majority of the content I share in these events is about non-dual metaphysics, and becoming ever more so.)
Among the recent past interviews I've participated in (with free audio archives online that you can listen to) are:
… and many more on the Events page.
I always enjoy talking about the non-dual Metaphysics, Psychology, Symbolism, Philosophy and more contained within the book "The Geometry Code: Universal Symbolic Mirrors of Natural Laws Within Us; Friendly Reminders of Inclusion to Forgive the Dreamer of Separation" which is available here.
ACIM Resources, Events, Musings from you!
Please let me know what YOU would like to see here, any suggestions for improvements, etc. If you have anything ACIM-related that you'd like to share, please send (or send a link) for consideration. This site (among other things) is a venue for conversations, so I eagerly encourage and await more contributions from kindred students of the One Teacher of forgiveness and kindness.
It's fun to share our universal interests online; visit ACIMblog pages on
FaceBook
FaceBook (my personal FB page, which is mostly ACIM-related),
Twitter and
YouTube.
If you aren't already receiving this automatically in your email, you can subscribe here for free.
Eternal smilezenhugs to all! 🙂