ACIMblog bulletin for May 2013: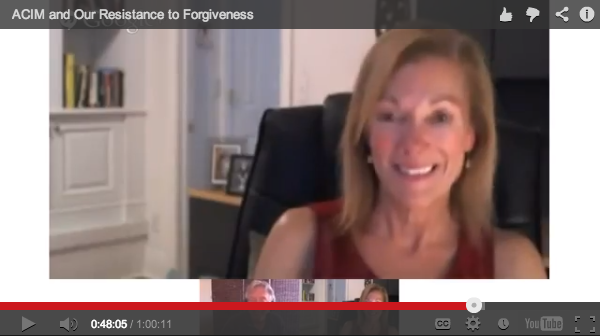 ACIM and Our Resistance to Forgiveness – a conversation with Susan Dugan
I recently spoke with Susan Dugan about recent ACIM-related inspirations via Google+ hangouts; here is the video recording of that session. She spoke about one of Kenneth Wapnick's recent audio CDs, titled "FORGIVENESS NOW", subtitled "Those you do not forgive you fear." The focus of the seminar is on "The Lifting of the Veil", the final subsection of the final obstacle to peace—The fear of God–in Chapter 19. Susan is releasing her third book, Forgiveness Offers Everything I Want in a few days. I'll provide details in the next bulletin and also as soon as it's officially available. I've been reading an advance copy, and, as expected, it's excellent, like her prior book Extraordinary Ordinary Forgiveness. It's in keeping with the same enjoyable format of introspective offerings of every day life experience, handed over with a generous amount of humor and to the Teacher of Kindness we all share; the specific issues are consistently dismantled, dissolved and disappeared by the author of our favorite book. 🙂 Susan's blog, Forays In Forgiveness – highly recommended – will give you a flavor of what is in her books. If you've read all her current blog posts, here are some additional archives from her prior blog.
The Essential Metaphysics of A Course in Miracles – Denver, CO class series by Lyn Corona
In case you missed last month's bulletin, here's a recorded interview/conversation with Lyn Corona (via Google+ Hangouts). Lyn talked about an early mystical experience which led to a lifetime of spiritual inquiry, finding ACIM in the mid 1970's and much more. Lyn just started a class at the Rocky Mountain Miracle Center in Denver entitled "The Essential Metaphysics of A Course in Miracles". If you missed the first session and can make the remaining three sessions (or even if you can't), here's the audio recording from the first session, along with several other related audio recordings of Lyn. These include several newer audio recordings by Lyn Corona from ACIM Gather on Paltalk Express. To listen and/or participate live on these audio sessions, visit the ACIMblog Resources page for more details. Lyn has a weekly program on ACIM Gather Tuesdays from 7-8PM Eastern Time. Here's the programming schedule. Lyn's websites – both recommended! – are  Becoming Learners Together and School of Reason.
Some Ken Wapnick (and other) Videos of Interest
Here are some recent videos featuring Kenneth Wapnick: Some unique commentary (partially in Spanish, translated to English) with El grano de mostaza publishers, Understanding the mind – Excerpt from "A Course in Miracles" Workshop. Other recent videos include "The 'Hero' of the Dream. Teachings from A Course in Miracles" by grysler, and Serenity Through A Course In Miracles by O-Shen Christ.
ACIM Video Series by Ike Allen (Avaiya)
Ike Allen, who brought us the documentary "
A Course In Miracles, The Movie
" (featuring A Course in Miracles The Movie: Dr. Kenneth Wapnick, Gary Renard, Nouk Sanchez, Tomas Vieira, Ike Allen and others) and
Leap!
, has provided an
ACIM video series/ TV network
(with companion articles) on the
Avaiya
website. Here are videos of
Ken Wapnick
(and a
related article by Ken
),
Gary Renard
,
Jon Mundy
, 
David Hoffmeister
, 
Tama Kieves
, and others.
Complete video archives of the 2013 Dublin Ireland ACIM conference
Thanks to the generous support and efforts of emcee Kenneth Bok, conference organizer Michael Murray, all the speakers and undoubtedly countless others, the entire video recording of the ACIM 2013 Conference in Dublin, Ireland is available here for your viewing enjoyment. Here's Ken's commentary about the event on FaceBook. Ken also is venturing into internet radio (Spreaker) again with a new show; a conversation about mindfulness with Tim Rowe.
If anyone has shareable 'trip reports' from the recent ACIM conference Chicago, Illinois, (that happened on the same weekend as the Dublin conference) please send my way and I'll add them to the blog here.
Non-dual Repurposing of Politics
In last month's bulletin, I mentioned a helpful article by D. Patrick Miller: Why I Don't Like My Spiritual Discipline. Here's another in his series on Elephant Journal: Notes Toward a Politics of Forgiveness. After all, as long as we believe in duality, there's the ego's political battlefield of we and they, regardless of the form; fortunately our Inner Teacher of Kindness can use that same war zone as a classroom for releasing our projections. Thanks to D. Patrick Miller of Fearless Books also for publishing the book (Disappearance of the Universe) that catalyzed a headlong plunge back into ACIM's non-dual metaphysics for me in 2007 after too long a hiatus. 🙂
Peace of Mind by Ed Karlovich
Ed Karlovich recently wrote an article about being willing to let go of our identification with (ego) thoughts; check it out! Ed was instrumental, along with numerous other volunteers in the Ashland-Medford area of southern Oregon, in facilitating several workshops and lectures with Gary Renard and Cindy Lora-Renard, Tom and Linda Carpenter, Nouk Sanchez and Tomas Vieira, Linda McNabb (with special guest Neale Donald Walsch) and Stuart Mooney.
Another year of Gratitude for your Support – The Geometry Code '1 year anniversary' on June 5
A year ago (next Wednesday), I launched the 'treeware' version of The Geometry Code: Universal Symbolic Mirrors of Natural Laws Within Us; Friendly Reminders of Inclusion to Forgive the Dreamer of Separation. The Kindle version of the paperback book followed a few months later last fall. While certainly not exclusively an "ACIM studies" book, ACIM was definitely a primary inspiration, and the addition of the backdrop of the seven ancient Hermetic Laws, a smattering of mystical geometry and even some dabbling in modern physics and it's inexorable transformation in our mind to metaphysics. Thanks to one and all for your generous and continued support of the two versions from multiple countries, and to Gary Renard for the Foreward, and countless others for inspiration! I've had a number of kind reviews and endorsements. If you'd like to add yours, please send my way, and/or post on the Amazon review page here. You can find a free first chapter of the book (entitled "The Question of Identity: Two Thought Systems") here.
Daily post updates
You can now quickly and easily subscribe to automated post updates to the ACIMblog.com website. Just enter your email below where it says the "ACIMblog.com post updates by email" on the upper right hand corner of any page, and click the "Subscribe" button. You'll automatically get an email containing any new posts to ACIMblog.com made the previous day. Of course, if you prefer just getting one email a month, the bulletin you're reading now (if you're reading this in your email program) will still continue to provide that service.
Upcoming Interviews / Webcasts / Videos / Meetings / Conferences / Presentations/ Classes / Resources
Online ACIM study groups and presentations
There are several ongoing ACIM Hangout study groups and meetings; here's a link to the ACIMExplained YouTube Channel (which has LOTS of wonderful videos) including regular interviews, presentations and online study group meetings. Enjoy, and join in if you feel inspired to share in the fun. Check back regularly on the calendar of upcoming online ACIM Hangouts for new events to participate 'live' in, and/or watch later. Here's a how-to page with best practices for participating in these Google+ Hangouts.
Recent additions to ACIMblog Favorites
The ACIMblog Favorites (Amazon "aStore") has new additions of ACIM-related books, videos, audios, Kindle and other media. I've recently added several new ACIM titles on the Amazon ACIMblog Favorites page and will keep adding more.
If there are books, videos, audios or Kindle selections you recommend, but don't see here, please let me know what you find truly helpful so I can add them to the lists.
ACIM Resources, Events, Musings – your suggestions and contributions invited!
Please contact me to share what YOU would like to see here, any suggestions for improvements, etc. If you have anything ACIM-related that you'd like to share, please send (or send a link) for consideration. This site is (among other things) a venue for conversations, so I eagerly encourage and await more contributions from kindred students of our Shared Teacher of forgiveness and kindness.
It's fun to share our universal interests online; visit ACIMblog pages on
FaceBook
FaceBook (my personal FB page, which is mostly ACIM-related),
Twitter and
YouTube.
If you aren't already receiving this automatically in your email, you can subscribe here for free and get daily updates (of any posts made the prior day) via the "post updates by email" Subscribe button on every page.
Eternal smilezenhugs to all! 🙂