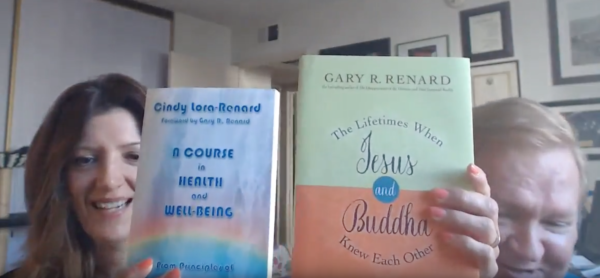 Gary Renard and Cindy Lora-Renard converse with Bruce Rawles in this video about their two latest books, both based on the pure non-dual metaphysical thought system of A Course in Miracles:
A Course in Health and Well-Being
 by Cindy Lora-Renard (available in Kindle and paperback)
and
The Lifetimes When Jesus and Buddha Knew Each Other: A History of Mighty Companions by Gary R. Renard (available in Kindle and hardcover)
After briefly talking about their recent Hawai'ian cruise, both went into considerable detail about helpful insights from both new books, including – from Cindy's book – the importance of maintaining a sense of humor and how light-heartedness, levity and joy keep things in perspective … and remind us to enjoy the dream, have fun, and access the real health in our mind, which ties into the key to forgiveness, not making our dream real which is the unfounded cause of our upsets. Remembering that we're dreaming, we're not at the effect – at the mercy – of anything that isn't part of Perfect Oneness can't affect us. Then we can afford to be merciful to everyone and everything.
Practicing the gentle vigilance of our forgiveness classroom steps gives us the means to shorten the duration of our ego lapses and find perfect Peace instead of trying to make a perfect world outside of us. Cindy shared the helpful idea that the ideas that inspire us are meant to be used by us first and foremost. Her book deals with pragmatic themes about physical health, pain, health and relaxation from the perspective of ACIM; realizing that all of these depend on mental choices; the acceptance of the innocence we all share the decision in the mind which reflects kindness to ourselves and others; demonstrating that we always have a choice to stay in our right minds at every moment, no matter how challenging circumstances may seem.
Gary shared – from his new "stand-alone" book which is available for pre-order and should be available in November 2017 – how the historical figures of Jesus (Yeshua) and Buddha (Siddhartha) shared at least a half dozen lives when they knew and assisted each other awaken. These lifetimes includes lifetimes in Japan (Shinto culture), India (Hindu culture), as students of Plato, during the life of Buddha (and his son) and the life of Jesus. The book – which took 3 years to refine the narrations of these familiar figures – reiterates how their intent was never to start religions, divisions, or denominations but to teach the pure, non-dual truth that … "A sense of separation from God is the only lack you really need correct." Our true reality is beyond the confines of space and time and these interwoven lifetimes lead inexorably to the remembrances of this eternal non-dual, infinitely-shared Being, the focus of the mindfulness of these companions. There is a chart – made by Mike "Giddyup Mikey" Lemieux in the book detailing these lifetimes. We're reminded to "be vigilant only for God and His Kingdom." This vigilance has nothing to do with egos pointing out the errors of other egos. 🙂 The stories of these lifetimes are all about undoing our egos through consistent practice.
We also talked about the metaphysical content of several movies, including Arrival, The Circle, Life of Brian, As It Is In Heaven (a Swedish drama inspired by ACIM – and one of the top 10 metaphysical movies listed in Gary's new book) and  Joyeux Noel.