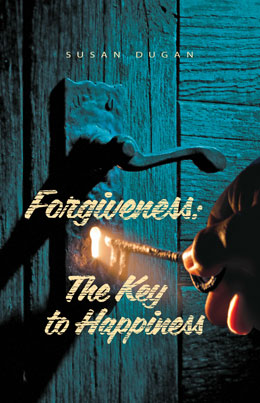 ACIM teacher and author, Susan Dugan, has a new book: Forgiveness: The Key to Happiness, which has just been released on Amazon in paperback and also for Kindle.
Here's Susan's description of the book:
In Forgiveness: The Key to Happiness, Susan Dugan continues to recount her personal journey in learning to change the purpose of our relationships from rooting ourselves more deeply in a childish dream of separation, to growing up to accept our shared interest in remembering the uninterrupted, eternal love of our true nature. Her deeply poignant, entertaining essays explore how to really live the teachings of A Course in Miracles, learning to view our lives as a classroom in which we encounter a better way of relating to each other through the inner teacher of forgiveness instead of sin, guilt, and fear. By making our relationship with our inner teacher the most important thing, we discover how to honor the power of everyone's decision-making mind by connecting with our own, recognizing our own mind in need of healing in our desire to fix, change, and control others. Ultimately realizing, through moment-to-moment practice, how to relate to all there is from a healed perspective beyond guilt, blame, and need.
You can read more about the book on Susan's blog, Forays In Forgiveness.
I'll be adding a review of the book on ACIMblog when I've read it, but I wanted to let everyone know about it ASAP! On the basis of her two other superb – and very fun-to-read, accessible, insightful and highly recommended ACIM-related books, Forgiveness Offers Everything I Want, and Extraordinary Ordinary Forgiveness, I already recommend it quite highly! 🙂