Dreamer of the Dream: Interview with Gary Renard
Gary Renard and Bruce Rawles had fun talking for an hour about the "Dreamer of the Dream" in the text of A Course In Miracles (T-27.VII). Gary – as always – clearly delivers the 'straight scoop' without distortion or dilution of ACIM's pure-non-dual thought system. I always find listening to Gary's insights helpful and re-calibrating. Read more about Gary Renard's appearances and work at GaryRenard.com. Gary also referenced Workbook lesson 169; here's the section from the ACIM text "Dreamer of the Dream" that was the focus of the conversation. Here's a related video by Kenneth Wapnick on the Dreamer of the Dream. If you're interested in participating in future conversations with Gary (and/or other ACIM folk), please let me know and I'll add you to the roster for future conversations; here's some google+ hangouts tips to optimize the technical side of things.
New Book: The Universe Is Virtual by Alexander Marchand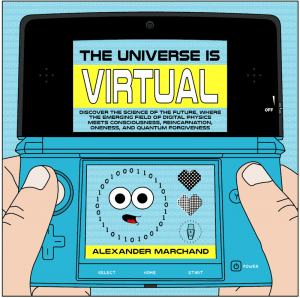 Alexander Marchand, author of the brilliant, lavishly illustrated (comic book style) and thoroughly enjoyable book, The Universe is a Dream, has a new ACIM/physics book: The Universe is Virtual. I've only read the first few pages in an email that Alex sent a day or so ago, and already it's a favorite! Having grown up in a physics-oriented community (Livermore, California where my Dad ran 'atom-smashers'), I savor insightful connections about physics that apply ACIM's pure non-dual metaphysics. I'm quite eager to read the entire book, and will review it in a future ACIMblog bulletin when I do!
ACIM Gold Mine? FAQ from FACIM has superb insights to complement ACIM
Recently I've been reading – in consecutive order, after lightly skimming randomly for years – the Frequently Asked Questions (FAQ) from the Foundation for A Course In Miracles (FACIM); I've also been reading and commenting on these FAQs on my Saturday morning program on Awakening Together's streaming audio from 7:30-8AM Mountain Time. FACIM also provides a myriad of outstanding resources for students of ACIM, including a prolific collection of the work of Dr. Kenneth Wapnick, including items from their bookstore such as books, Kindle titles, audios in both CD and mp3 formats, plus many years of online learning aids such as the quarterly Lighthouse bulletins and numerous other resources. The staff at FACIM continues to provide ongoing seminars, academy classes (both in-person and streaming video) and materials.
Academy Award Winning Performances … By Everyone!
We're all worthy of Academy Awards for acting! David Cohen and Bruce Rawles talked about luminary theatrics; Dave (a.k.a. Davie Crockett) and I shared a conversation on 22 February 2015, on his LA Talk Radio show. Our conversation theme coincided with the annual Academy Awards that evening, so we had fun examining the theater dream metaphors we're all living and how – as Shakespeare said – all the world's a stage. CA Brooks and I also had a recent conversation on her 12Radio program with a similar topic; I'll provide a link to that audio when I have it next month.
Upcoming Interviews / Webcasts / Videos / Meetings / Conferences / Presentations/ Classes / Resources
ACIM Resources, Events, Musings – your suggestions and contributions invited!
Please contact us to share what YOU would like to see here, any suggestions for improvements, etc. If you have anything ACIM-related that you'd like to share, please send (or send a link) for consideration. This site is (among other things) a venue for conversations, so I eagerly encourage and await more contributions from kindred students of our Shared Teacher of forgiveness and kindness. It's fun to share our universal interests online; visit ACIMblog pages on FaceBook FaceBook (my personal FB page, which is considerably ACIM-related), Twitter and YouTube. If you aren't already receiving this automatically in your email, you can subscribe here for free and get daily updates (of any posts made the prior day) via the "post updates by email" Subscribe button on every page. Eternal smilezenhugs to all! 🙂