ACIMblog bulletin for September 2012:
Upcoming Interviews / Webcasts / Videos / Meetings / Conferences / Presentations
Class: Universal Symbolic Mirrors of Natural Laws: Denver, CO Nov 5, 2012
On Monday, Nov. 5, 2012, from 7-9PM (Mountain Time) I'll be giving an evening multimedia class/presentation: "Universal Symbolic Mirrors of Natural Laws Within Us; Friendly Reminders of Inclusion to Forgive the Dreamer of Separation" at Shining Lotus Metaphysical Bookstore, 2178 S. Colorado Blvd., Denver, CO 80222 I will share LOTS of visual multimedia imagery, animation and more, along with plenty of theory on the mystical underpinnings of sacred geometry, the seven ancient Hermetic laws of truth, take-home lessons from modern physics, and how the non-dual metaphysics of inclusion, kindness and forgiving our self-judgments is key to sustainable happiness (a.k.a. non-dual metaphysics)! 🙂 There will be a book-signing after the class; both of my books, Sacred Geometry Design Sourcebook and The Geometry Code, are available from Shining Lotus Metaphysical Bookstore. Space is limited to 20 participants, so please contact me ASAP if you're interested and want to pre-register.
Miracles In The Mountains Conference: Cañon City, CO Oct 12-14, 2012
In October, I'll be attending – and very much looking forward it! – the Miracles In The Mountains (MITM) Conference; I hope to see you there! Here's a bit of fun I had 'PhotoShopping' a few 'bobbleheads' of some of the featured contributors … on the 'road to the abbey' 🙂


Dear friend and fellow ACIM enthusiast (and scholar of Gary Renard's work), 'Giddyup Mikey' Mike Lemieux – author of "Dude, Where's My Jesus Fish?: A Compilation Highlighting the Blunt and Uncompromising Teachings of Arten and Pursah on A Course in Miracles", will be carpooling with me to the event, so that will add an extra dimension of fun.
ACIM and Inception article
In August 2010, right after the movie Inception was released, I was immediately impressed with the symbolism and references to "ACIM concepts" and wrote this article: Inception and Forgiving the Dream We Made Up. I've seen the movie Inception at least 5 times now, most recently on the Inception DVD (which has some excellent documentary 'bonus' material), and more of the symbolism is evident with each viewing. Like many popular films, while not always offering the 'solution' to the tiny mad idea (the belief in separation), it does a superb job of detailing the insane logic of the ego's thought system and the mechanisms by which we have chosen to deepen our dream identifications. We can use the "George Costanza" opposite method (grin) to use these insights to see our ego's sabotage in action and undo it by applying the opposite thought system (to reach our true identity which is beyond opposites. 🙂 On Aug. 28, 2012, Kenneth Bok of ACIMexplained (who has a superb YouTube series on ACIM including an interview with me) sent me a link to an outstanding article by Michael Murray (which Kenneth helped with) on the movie Inception's ACIM connections, and I was inspired to add a few more thoughts to complement this very insightful article. I've provided references to the video clips and paragraphs in the article by Murray and Bok, in case you want to refer to both at the same time. You can read the rest here…
New ACIMexplained.com 'Google Hangouts' / interviews with Kenneth Bok
Last weekend (8Sep2012) I had the pleasure of participating in one of Kenneth Bok's new (google hangout) format (with multiple live videos) and Skype interviews on his superb YouTube channel about ACIM. This example (with the new format) is an ACIM Hangout with Nouk Sanchez and Carrie Triffet.
Tomorrow's (15Sep2012) multi-participant video 'google hangout' with Ken will be an ACIM Hangout with Pauline Edward. It should be on Ken's YouTube channel about ACIM shortly after that if you're unable to join in live.
Doug Sparks classes in Boulder, CO starting Oct 2012, and recent audio online
On Sunday, August 26, 2012, Doug Sparks gave another free talk "A Garden Epiphany" and an afternoon workshop 1-4 PM "A Dream of Trees" at The Rocky Mountain Miracle Center in Denver, Colorado. I've thoroughly enjoyed 2 other presentations that Doug gave there; he is a long time student of Kenneth Wapnick and an excellent, kind-hearted teacher. Here is a syllabus of new classes by Doug Sparks in Boulder, Colorado starting Oct. 2012 with a link to the audio from "A Garden Ephipany".
Wed. ACIM/DU online study group now a Google+ Hangout
For almost a year, I've been 'skype-ing in' to the Wed. evening ACIM/DU study group I started in southern Oregon (thanks to Dan & Terry Miller!) and now we have regular attendees from 3 states. It's a joy to be able to continue the friendship and deepening of understanding and sharing about our revelations about our practice of forgiveness, kindness and non-dual amusement/amazement. 🙂 So, I'm further enthused about the prospects of extending that capability among different groups around the planet. We get to play 'pioneers' in rediscovering how to reflect the connection, wholeness and sameness we never left. 🙂 Since we also just switched to the google+ hangout format, let us know if you'd like to join in these always-fun conversations. These video connections are a great complement to the audio-only programs such as ACIM Gather, which Dov Fishman does a great job hosting. Details about my weekly Friday program (amid the enjoyable 24/7 line up) are below.
A Conversation with Ken Wapnick: Just don't justify it!
Thanks to Sally McKirgan for alerting me to a new A Conversation with Ken Wapnick: Just don't justify it! an interview of Kenneth Wapnick by Susan Dugan.
JC lesson – article by Dan Rosey
Here's a new article titled JC lesson by Dan Rosey on his ACIM+NLP+Chakras website. It begins with "THERE IS NO DEATH; let that sink in a minute, is that not good news? Your body will perish, get eaten by worms, but not YOU. You are eternal." Dan usually joins us on Wed. evenings via skype (now google+ hangout) on our weekly multi-state study group from 7-9PM Pacific Time.
Recent Radio/Webcast Interviews/Podcasts/Videos
I've been updating the GeometryCode Events page with upcoming, ongoing, and past radio and internet interviews, presentations, and more. (The majority of the content I share in these events is about non-dual metaphysics, and becoming ever more so.)
Among the recent past interviews I've participated in (with free audio archives online that you can listen to) are:
… and many more on the Events page.
I always enjoy talking about the non-dual Metaphysics, Psychology, Symbolism, Philosophy and more contained within the book "The Geometry Code: Universal Symbolic Mirrors of Natural Laws Within Us; Friendly Reminders of Inclusion to Forgive the Dreamer of Separation" which is available here.
Kenneth Bok interview: A Course in Miracles & Sacred Geometry? on the ACIM Explained YouTube series
Check out Ken Bok's interview of Bruce Rawles on (ACIM Explained).
I recommend all of Ken's engaging engaging and thoughtful interviews about ACIM.
New ACIM studies book available
The new book: The Geometry Code: Universal Symbolic Mirrors of Natural Laws Within Us; Friendly Reminders of Inclusion to Forgive the Dreamer of Separation by Bruce Rawles (with a Foreward by Gary Renard) became available on Tuesday June 5th.
Don't let the word "Geometry" in the title scare you off! While there is a backdrop of geometric symbols in this book, they are used merely to provide outside pictorial reminders of the inward condition of choosing our shared Teacher of Kindness… or, as is often the case, gently nudge us to let go of our own hopeless yet silly dualistic notions, fantasies, special attachments and aversions. The book also draws on the ancient Hermetic Laws, which again, are used solely for the purpose of memory aids to bring to the Inclusive Spirit within to show us how our personal interpretations are never going to work, but those brought to the eternal Truth of the Being we all have in common will always restore our minds to wholeness and peace.
Learn more about the book here…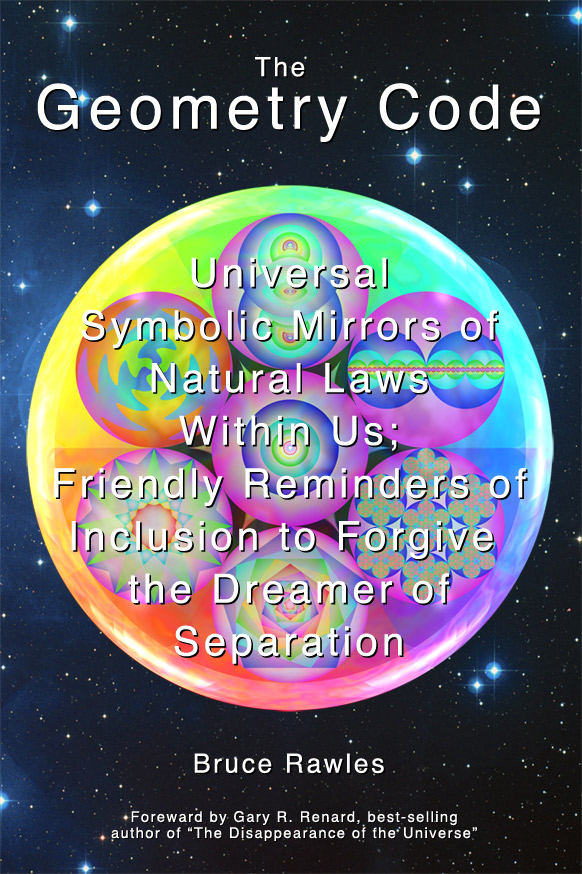 ACIM Resources, Events, Musings from you!
Please let me know what YOU would like to see here, any suggestions for improvements, etc. If you have anything ACIM-related that you'd like to share, please send (or send a link) for consideration. This site (among other things) is a venue for conversations, so I eagerly encourage and await more contributions from kindred students of the One Teacher of forgiveness and kindness.
It's fun to share our universal interests online; visit ACIMblog pages on
FaceBook,
Twitter and
YouTube.
If you aren't already receiving this automatically in your email, you can subscribe here for free.
Eternal smilezenhugs to all! 🙂