ACIMblog bulletin for June 2013:
High Above The Thorny Roads of Fear – Ken Wapnick article in the latest Lighthouse
Kenneth Wapnick consistently shares superb, concentrated insights at the heart of ACIM's pure non-dual metaphysics, always with kindness, humor and insight. This most recent edition of the Foundation for A Course In Miracles (FACIM)'s quarterly newsletter publication, The Lighthouse, with an article entitled "High Above The Thorny Roads of Fear" is no exception. Here's a short excerpt from the excellent article (highly recommended):
"The miracle does not ask us to choose between the two—body or mind identification—but only to recognize that this is our choice: the well-traveled road of bodies that are doomed to suffer pain and loss, and then die (T-31.VI.2:3), or the less-traveled, mind-centered road Jesus leads us on that will carry us home on peaceful wings of love. We cannot take both paths."
Forgiveness Offers Everything I Want: New ACIM studies book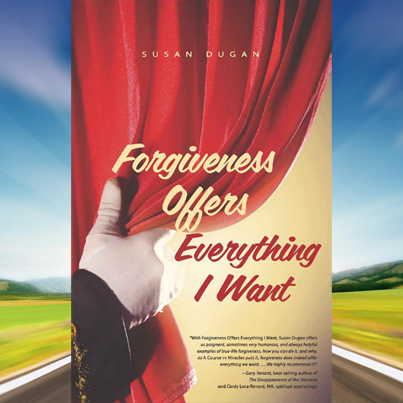 Forgiveness Offers Everything I Want is the title of a video conversation with Susan Dugan and Bruce Rawles … and also the title of Susan's outstanding new book (Forgiveness Offers Everything I Want; which is available in both paperback and Kindle versions). The book (which continues in the same humorous and lucid writing style as her prior – equally engaging – book, Extraordinary Ordinary Forgiveness) uses examples from her personal mindful forgiveness training as the springboard to look at how we can be happily wrong about our narrow, victim-centric and grievance-based interpretations and judgments and learn to generalize these life lessons we all share.
The Essential Metaphysics of A Course in Miracles – Denver, CO class series by Lyn Corona
I will soon upload the remaining three audios of Lyn Corona's recent class at the Rocky Mountain Miracle Center in Denver entitled "The Essential Metaphysics of A Course in Miracles which concludes June 30, 2013. Here's the audio recording from the first session, along with several other related audio recordings of Lyn. Lyn talked about an early mystical experience which led to a lifetime of spiritual inquiry, finding ACIM in the mid 1970's and much more. These include several newer audio recordings by Lyn Corona from ACIM Gather on Paltalk Express. To listen and/or participate live on these audio sessions, visit the ACIMblog Resources page for more details. Lyn has a weekly program on ACIM Gather Tuesdays from 7-8PM Eastern Time. Here's the programming schedule. Lyn's websites – both recommended! – are  Becoming Learners Together and School of Reason. Here's another recent video interview/conversation with Lyn Corona (via Google+ Hangouts).
Grateful for another year of your Support – 'one year anniversary' of The Geometry Code book
A year ago (on June 5, 2013), I launched the paperback version of The Geometry Code: Universal Symbolic Mirrors of Natural Laws Within Us; Friendly Reminders of Inclusion to Forgive the Dreamer of Separation. The Kindle version of the paperback book followed a few months later last fall. While certainly not exclusively an "ACIM studies" book, ACIM was definitely a primary inspiration, and the addition of the backdrop of the seven ancient Hermetic Laws, a smattering of mystical geometry and even some dabbling in modern physics and it's inexorable transformation in our mind to metaphysics. Thanks to one and all for your generous and continued support of the two versions from multiple countries, and to Gary Renard for the Foreward, and countless others for inspiration! I've had a number of kind reviews and endorsements. If you'd like to add yours, please send my way, and/or post on the Amazon review page here. You can find a free first chapter of the book (entitled "The Question of Identity: Two Thought Systems") here.
Daily post updates
Now you can quickly and easily subscribe to automated post updates to the ACIMblog.com website. Just enter your email below where it says the "ACIMblog.com post updates by email" on the upper right hand corner of any page, and click the "Subscribe" button. You'll automatically get an email containing any new posts to ACIMblog.com made the previous day. Of course, if you prefer just getting one email a month, the bulletin you're reading now (if you're reading this in your email program) will still continue to provide that service.
Upcoming Interviews / Webcasts / Videos / Meetings / Conferences / Presentations/ Classes / Resources
Online ACIM study groups and presentations
There are several ongoing ACIM Hangout study groups and meetings; here's a link to the ACIMExplained YouTube Channel (which has LOTS of wonderful videos) including regular interviews, presentations and online study group meetings. Enjoy, and join in if you feel inspired to share in the fun. Check back regularly on the calendar of upcoming online ACIM Hangouts for new events to participate 'live' in, and/or watch later. Here's a how-to page with best practices for participating in these Google+ Hangouts.
Recent additions to ACIMblog Favorites
The ACIMblog Favorites (Amazon "aStore") has new additions of ACIM-related books, videos, audios, Kindle and other media. I've recently added several new ACIM titles on the Amazon ACIMblog Favorites page and will keep adding more.
If there are books, videos, audios or Kindle selections you recommend, but don't see here, please let me know what you find truly helpful so I can add them to the lists.
ACIM Resources, Events, Musings – your suggestions and contributions invited!
Please contact me to share what YOU would like to see here, any suggestions for improvements, etc. If you have anything ACIM-related that you'd like to share, please send (or send a link) for consideration. This site is (among other things) a venue for conversations, so I eagerly encourage and await more contributions from kindred students of our Shared Teacher of forgiveness and kindness.
It's fun to share our universal interests online; visit ACIMblog pages on
FaceBook
FaceBook (my personal FB page, which is mostly ACIM-related),
Twitter and
YouTube.
If you aren't already receiving this automatically in your email, you can subscribe here for free and get daily updates (of any posts made the prior day) via the "post updates by email" Subscribe button on every page.
Eternal smilezenhugs to all! 🙂