ACIMblog bulletin for July 2013:
New website, Awakening-Together.org features non-dual metaphysics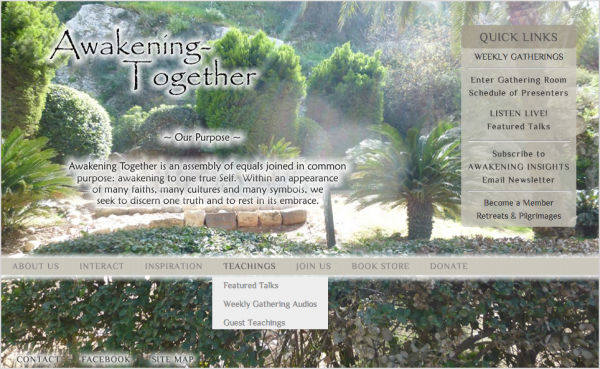 There's a new website featuring a variety of teachings emphasizing non-dual metaphysics, Awakening-Together.org. In addition to offering the audio programming of ACIM Gather (which will officially migrate to this new site in 2014), it provides a forum for a wide variety of related sharing, a weekly program on Sunday mornings and much more. Here's their purpose statement: Awakening Together is an assembly of equals joined in common purpose: awakening to one true Self. Within an appearance of many faiths, many cultures and many symbols, we seek to discern one truth and to rest in its embrace.
Interview with Dr. Lorraine Hurley
What? My mind is primary? The space-time dream secondary at best? … Here's an audio archive of another fun interview of me by Dr. Lorraine Hurley we did last week where we covered these topics and more. Click on the first hour link from the 25July2013 archive. Enjoy! 🙂
Forgiving Ourselves – A conversation with Lyn Corona, Susan Dugan and Bruce Rawles
A video conversation with Lyn Corona and Susan Dugan about looking at the resistance to forgiving ourselves without judgment, and a variety of metaphors and ideas that might be helpful, inspired by studies in A Course In Miracles. More at ACIMblog.com, ForaysInForgiveness.com, BecomingLearnersTogether.com and SchoolOfReason.org.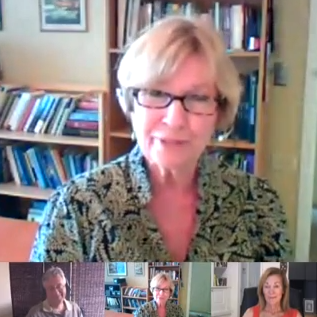 Forgiveness Offers Everything I Want: New ACIM studies book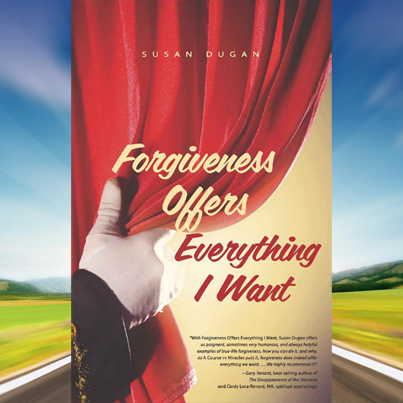 Today I finished reading Forgiveness Offers Everything I Want, a superb new ACIM-studies book by Susan Dugan, available in both paperback and Kindle versions. We also had a recent video conversation about the book (which continues in the same humorous and lucid writing style as her prior – equally engaging – book, Extraordinary Ordinary Forgiveness). The book uses examples from her personal mindful forgiveness training as the springboard to look at how we can be happily wrong about our narrow, victim-centric and grievance-based interpretations and judgments and learn to generalize these life lessons we all share.
Daily post updates
Now you can quickly and easily subscribe to automated post updates to the ACIMblog.com website. Just enter your email below where it says the "ACIMblog.com post updates by email" on the upper right hand corner of any page, and click the "Subscribe" button. You'll automatically get an email containing any new posts to ACIMblog.com made the previous day. Of course, if you prefer just getting one email a month, the bulletin you're reading now (if you're reading this in your email program) will still continue to provide that service.
Upcoming Interviews / Webcasts / Videos / Meetings / Conferences / Presentations/ Classes / Resources
Online ACIM study groups and presentations
There are several ongoing ACIM Hangout study groups and meetings; here's a link to the ACIMExplained YouTube Channel (which has LOTS of wonderful videos) including regular interviews, presentations and online study group meetings. Enjoy, and join in if you feel inspired to share in the fun. Check back regularly on the calendar of upcoming online ACIM Hangouts for new events to participate 'live' in, and/or watch later. Here's a how-to page with best practices for participating in these Google+ Hangouts.
ACIM-related websites and blogs of interest
Undoing Joey – To find my way home, I must disappear, a new ACIM-inspired website.
Five new ACIM Gather recordings from Lyn Corona, of the School of Reason, are now on her audio page.
ACIM Resources, Events, Musings – your suggestions and contributions invited!
Please contact me to share what YOU would like to see here, any suggestions for improvements, etc. If you have anything ACIM-related that you'd like to share, please send (or send a link) for consideration. This site is (among other things) a venue for conversations, so I eagerly encourage and await more contributions from kindred students of our Shared Teacher of forgiveness and kindness.
It's fun to share our universal interests online; visit ACIMblog pages on
FaceBook
FaceBook (my personal FB page, which is mostly ACIM-related),
Twitter and
YouTube.
If you aren't already receiving this automatically in your email, you can subscribe here for free and get daily updates (of any posts made the prior day) via the "post updates by email" Subscribe button on every page.
Eternal smilezenhugs to all! 🙂