ACIMblog bulletin for April 2013:
An interview/conversation with Lyn Corona about her history with ACIM
I recently recorded an interview/conversation with Lyn Corona (via Google+ Hangouts). Lyn talked about an early mystical experience which led to a lifetime of spiritual inquiry, finding ACIM in the mid 1970's and much more. Lyn's websites – both recommended! – are  Becoming Learners Together and School of Reason.
Here are some recent audio recordings by Lyn Corona from ACIM Gather on Paltalk Express. To listen and/or participate live on these audio sessions, visit the ACIMblog Resources page for more details. Lyn recently started a weekly program on ACIM Gather Tuesdays from 7-8PM Eastern Time. Here's the programming schedule.
All or nothing? (A neat photo found on FaceBook recently)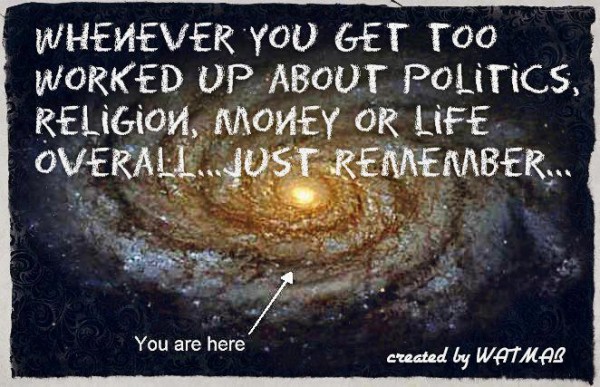 The who we think we are – nuthin' – doesn't even register on the zoomed in photo; we're radar blip wannabes … yet WHAT we really are – Everything – dwarfs this surreal cosmos. 🙂
Another example of superb blog posts about ACIM by Susan Dugan
This one (Seeing Purple)
really hit home; when I notice my investment in a 'special identity' as a concealed weapon against wholeness, it helps to bring down the walls in my mind; recognizing that both offense and defense are still just fences in the dreamscape battlefield, I catch myself more and more before reinvesting the farm in divisiveness… I had a glimpse of the folly of 'we/they' thinking in high school when – in rebellion to what I perceived as a mad world – I took a contrarian 'inner hippy' attitude and quickly discovered that I was conforming to non-conformity! Oops! 🙂 Perhaps my favorite example of how we can practice undoing the original authority problem (the belief in separate interests) is the story of Bill Thetford who, upon hearing fellow students of our favorite blue book arguing about the meaning of a specific passage, ripped out the offending page, crumpled it up and suggested that it's form and specifics weren't as important as the meaning behind the words, infinitely beyond any surreal fantasy of differences. Thanks, 
Susan Dugan
! 🙂
Why I Don't Like My Spiritual Discipline – an article by D. Patrick Miller
Here's a fun and astute article about my chosen forgiveness mentoring system (and I imagine it's likely to be yours, too if you're reading this) … As Ken Wapnick points out, if most students realized what ACIM ultimately leads to, they'd never pick it up. If we don't notice the resistance to dropping our attachment to a grief-sustaining surreal self we've invested in on a cosmic scale – and thrown away the key to the projection room that sustains it – we're probably either heavily sedated or in major 'bliss-ninny' denial. The 'inconvenient truth' aspect of this introspective teaching is simultaneously our greatest challenge (when we attempt to use ego to undo itself) or our greatest opportunity (when we let go of our inner book-pitching tendencies and see the humor in our pathetic attempts at happiness.) Thanks to D. Patrick Miller of Fearless Books also for publishing the book (Disappearance of the Universe) that catalyzed a headlong plunge back into ACIM's non-dual metaphysics for me in 2007 after too long a hiatus. 🙂
Trip reports requested from Chicago and/or Dublin ACIM conferences
If you plan to attend either of the ACIM conferences happening next weekend in Chicago, Illinois (USA) or Dublin, Ireland, please send your notes, links, etc. that might be of interest to ACIMblog readers for next month's bulletin. Thanks! 🙂
Daily post updates
You can now quickly and easily subscribe to automated post updates to the ACIMblog.com website. Just enter your email below where it says the "ACIMblog.com post updates by email" on the upper right hand corner of any page, and click the "Subscribe" button. You'll automatically get an email containing any new posts to ACIMblog.com made the previous day. Of course, if you prefer just getting one email a month, the bulletin you're reading now (if you're reading this in your email program) will still continue to provide that service.
Upcoming Interviews / Webcasts / Videos / Meetings / Conferences / Presentations/ Classes / Resources
Online ACIM study groups and presentations
There are several ongoing ACIM Hangout study groups and meetings; here's a link to the ACIMExplained YouTube Channel (which has LOTS of wonderful videos) including regular interviews, presentations and online study group meetings. Enjoy, and join in if you feel inspired to share in the fun. Check back regularly on the calendar of upcoming online ACIM Hangouts for new events to participate 'live' in, and/or watch later. Here's a how-to page with best practices for participating in these Google+ Hangouts.
Recent additions to ACIMblog Favorites
The ACIMblog Favorites (Amazon "aStore") has new additions of ACIM-related books, videos, audios, Kindle and other media. I've recently added several new ACIM titles on the Amazon ACIMblog Favorites page and will keep adding more.
If there are books, videos, audios or Kindle selections you recommend, but don't see here, please let me know what you find truly helpful so I can add them to the lists.
ACIM Resources, Events, Musings – your suggestions and contributions invited!
Please contact me to share what YOU would like to see here, any suggestions for improvements, etc. If you have anything ACIM-related that you'd like to share, please send (or send a link) for consideration. This site is (among other things) a venue for conversations, so I eagerly encourage and await more contributions from kindred students of our Shared Teacher of forgiveness and kindness.
It's fun to share our universal interests online; visit ACIMblog pages on
FaceBook
FaceBook (my personal FB page, which is mostly ACIM-related),
Twitter and
YouTube.
If you aren't already receiving this automatically in your email, you can subscribe here for free and get daily updates (of any posts made the prior day) via the "post updates by email" Subscribe button on every page.
Eternal smilezenhugs to all! 🙂